Parineeti Chopra-Raghav Chadha Wedding: The couple partake in Ardas and Kirtan, seek blessings at Gurudwara
Parineeti Chopra and Raghav Chaddha kick-start their wedding preps by seeking blessings at Gurudwara in Delhi. The celebrity couple will have all their wedding rituals at The Leela Palace, from September 23 to 24.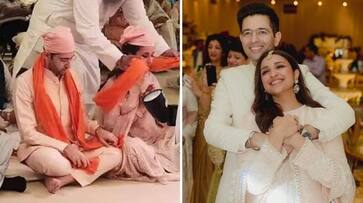 During the pre-wedding celebrations, the couple, who are both Punjabis, will serve a Punjabi meal to their guests. Guests will also be able to sample Rajasthani dishes. Raghav is also said to be making an unusual entry on a boat, rather than the typical horse. Aside from rigorous security, the couple has scheduled tourism activities for their guests.
Parineeti Chopra and Raghav Chadha seek blessings at a Gurudwara in New Delhi ahead of their two-day wedding celebration in Udaipur on September 23 and 24.
The wedding preparations for Parineeti and Raghav have officially begun. The actor and politician duo, who is due to marry on September 24, recently visited a Gurudwara in New Delhi to engage in Ardas and Kirtan to seek blessings before the wedding celebrations begin. The pair got engaged on May 13 and will now exchange wedding vows over a two-day banquet with their family and friends on September 23 and 24.
Some fresh images of Parineeti and Raghav have appeared on social media as their mehendi pictures, however a source close to the actor told a media house that these are not pictures from the actor's mehendi ceremony, but rather from their recent visit to the gurudwara.
Parineeti recently travelled from Mumbai to Delhi to begin her wedding preparations. The actor was photographed sporting a headgear with the word 'R' stitched on it. Parineeti's mansion in Mumbai was also illuminated in preparation for the wedding. Raghav's family has also been busy with wedding preparations, and his home has been adorned in preparation for their wedding.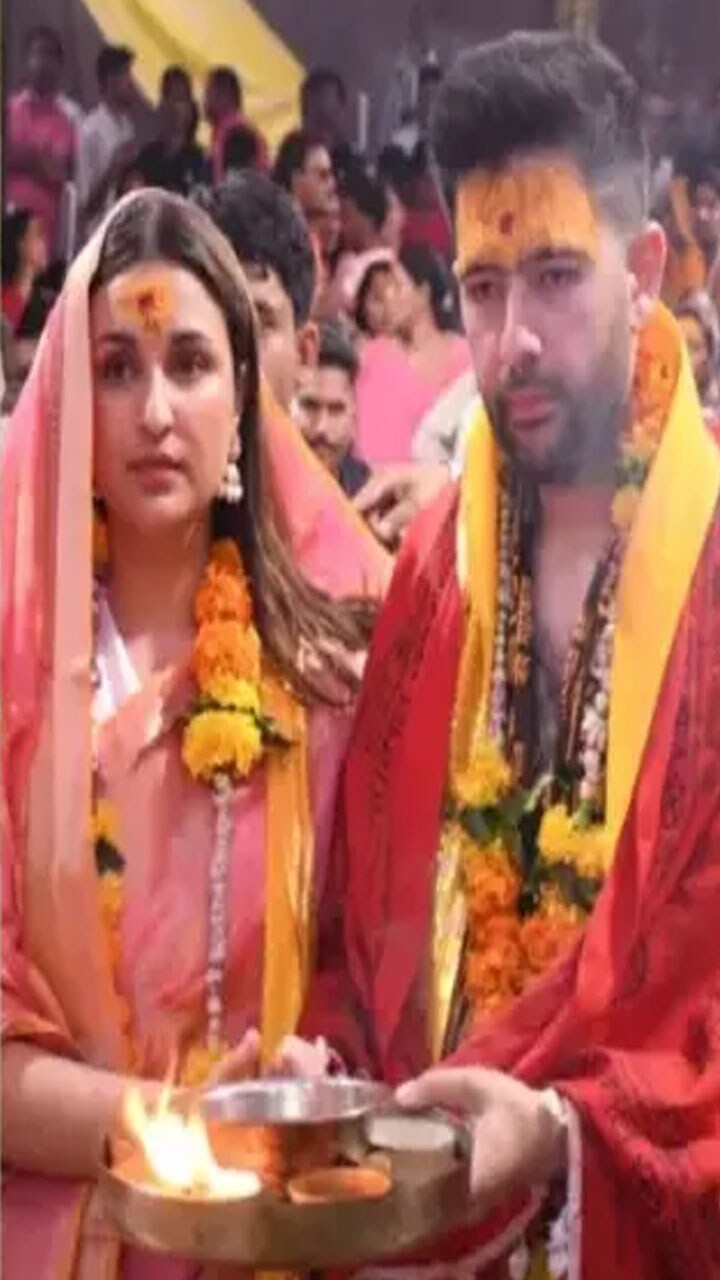 As Parineeti, Raghav, and their families are now in Delhi, partaking in rites such as Ardas and Kirtan, the Chopra and Chadha families are now enjoying the couple's pre-wedding celebrations together. Because the couple is an avid cricket fan, the two families have also scheduled a Chopra vs. Chadha cricket match as part of the celebrations.
In Udaipur, Rajasthan, Parineeti and Raghav's wedding will be a regal occasion. All of the celebrity couple's wedding rites will take place at The Leela Palace from September 23 to 24. The Chura ritual for Parineeti will take place on Saturday morning, followed by haldi and mehendi. The pair is then anticipated to dance the night away in a Bollywood sangeet with a 90's theme.
According to reports, Parineeti's cousin, Priyanka Chopra, who attended her engagement in Kapurthala in May, may also attend her wedding festivities. Priyanka's husband, musician Nick Jonas, may be unable to attend her wedding because he is presently on tour for the Jonas Brothers performance in the United States.
On September 24, the pair will marry in the afternoon, and both they and their guests will be dressed in pearls and whites. Following the ceremony, the newlywed couple will meet their guests at the same location for the reception.
Parineeti and Raghav will give a formal reception for Raghav's coworkers and acquaintances, with prominent politicians and Parineeti's family friends from the fraternity in attendance.
Last Updated Sep 20, 2023, 1:32 PM IST