Pahlaj Nihalni recalls heated showdown with Divya Bharti; her refusal to be paired with Chunkey Panday
Pahlaj Nihalani initially advised late actor Divya Bharti to lose weight, but later cast her in "Shola Aur Shabnam." Divya had reservations about a film opposite Chunky Panday, leading to her refusal. She tragically passed away at 19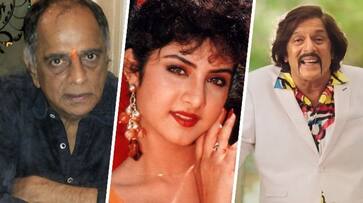 Film producer and former chairman of the Central Board of Film Certification, Pahlaj Nihalani, shared insights into his experiences working with the late actor Divya Bharti in the film industry. Nihalani narrated a story about how he initially had reservations about her appearance and advised her to lose weight before casting her in a movie.
Pahlaj Nihalani revealed that when he first saw pictures of Divya Bharti, he believed she needed to shed some weight. He stated, "We hadn't started shooting the film yet, and she approached me via a secretary. I saw her pictures and felt she looked a little plump. I told the secretary that she must lose weight before starting work." However, he decided to cast her in the film "Shola Aur Shabnam," directed by David Dhawan and starring Govinda. He further mentioned that Divya Bharti joined the production when only around five days of shooting were left for the film.
Nihalani continued, sharing his first impressions of Divya Bharti, saying, "This was the first time I met her in person, and I liked what I saw. She immediately signed many films after that."
Regarding the 1993 film "Aankhen," Pahlaj Nihalani recalled that Divya Bharti, along with Pooja Bhatt and Juhi Chawla, was originally supposed to be part of the project. However, he made the decision to pair Divya with Chunky Panday and Ritu Shivpuri with Govinda. When David Dhawan conveyed this decision to Divya Bharti, she expressed her dissatisfaction and even threatened to take drastic actions. Nihalani elaborated on the situation, stating, "She threw a big tantrum, and summoned me. I went to meet her, and she said, 'I've heard that I'm opposite Chunky?' I said yes. She refused to do the film."
ALSO READ: Ranbir Kapoor, Sai Pallavi to play Ram, Sita in Madhu Mantena's retelling on Ramayana? Here's what we know
Divya Bharti, who was already one of the highest-paid female actors of her time, tragically passed away at the young age of 19 after falling from the balcony of her home. Many believed that she had the potential to become a superstar in the film industry had her life not been cut short.
Last Updated Oct 4, 2023, 11:37 AM IST