If you want an example on how to give up on art and your convictions, you can always look towards Bollywood
Mr SLB, here, maybe your next film should be based not on historical characters but the real villains of Freedom of expression in India
Dear Sanjay Leela Bhansali,
 
         When I watched your films like Khamoshi, 1942: A love Story, Guzaarish and Black, I was overwhelmed by your vision, your conviction by your story. Every story directed by you till now be it Hum Dil de Chuke Sanam, Ram Leela or Saawariya, has made me wonder and admire your sheer brilliance at bringing mundane tales to life. But today, when I hear about Padmavati, I fail to see the man with a vision. I fail to see the man, who through his storytelling, direction and music, defied the norms.
 I also watched, along with hundreds of others, on television how the members of the Karni Sena roughed you up and left you shaken all because they thought you were tarnishing history. It made me angry, but when you stood there silent, packed up the set and left the place, it saddened me.

 Why? Because Now I heard that you have reached a truce with Giriraj Singh Lotwara, President, Shree Rajput Sabha, Jaipur, regarding the latter's objection to possible distortion of facts in Padmavati. Your team has said they have been carefully researching and making the film, which they feel Mewar will be proud of.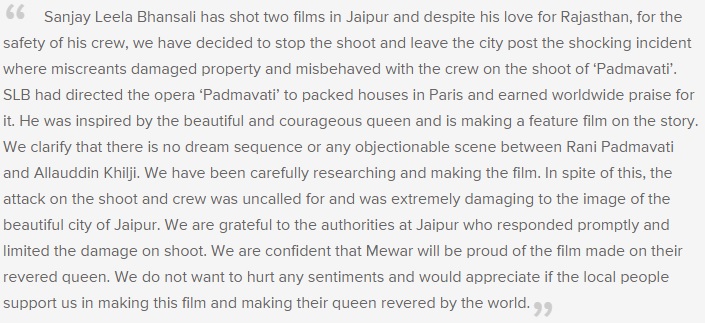 Recently, when Meryl Streep spoke against Donald Trump, you had everybody chiming in asking the same question, when will Bollywood do a Meryl Streep, I guess we will have to wait a bit longer to answer that question. Karan Johar was very vocal on Twitter condemning the violence on your film's sets, but when it came to the time when he could have set an example with Ae Dil Hai Mushkil and Fawad Khan against the Maharashtra Navnirman Sena, he chose to stay mum; rather he even went to video tape himself saying (and paid a heft amount as ransom) how he loved soldiers and India and vowed never to work with Pakistanis again.
Also read: 
If you want an example on how to give up on art and your convictions, you can always look towards Bollywood. All Shiv Sena had to say was boo! and all that bravado went down the drain. He bent over backwards to accommodate the Shiv Sena and that is the case with other directors and actors in the creative field as well. Same with best friend and your Devdas lead Shah Rukh Khan, who went out of his way to go and make sure he wiped Pakistan's actress Mahira Khan's contributions in the film into the dust only so that Shiv Sena would allow his film Raees to run. Why were the Pakistani actors made to bear the brunt of the rigid mentality of a few? What about Deepa Mehta's Fire and the banning of Anurag Kashyap's Black Friday or Mani Ratnam's Bombay?
Now, you too have done the same.
A scene from Padmavati, an opera
Why, Mr Bhansali? Did you also have to bow down to these extremist forces? Will your clarification undo the damage that has already been done? You may have heard the saying Give somebody an inch and they'll take a mile. Will you also accommodate the Karni Sena's demands to see the film for themselves first before you release it?
These so called custodians of Rajput history who have not seen or heard or made the film and yet they beat you up on grounds of suspicion that you were including a kissing scene between Alauddin Khilji and Rani Padmavati.
Bravo! Karni Sena, another copycat of the Shiv Sena and the numerous Sanghs you generate from. Mr SLB, here, maybe your next film should be based not on historical characters but on real flesh and blood people like the Karni Sena who think vandalism, violence and bloodshed is the way to live.
What the Karni Sena did was to highlight the age that we live in – a censor lurking around the corner 24x7.
Now if anyone speaks against Modi, he gets called anti-national; if anyone doesn't stand for the National Anthem  he gets beaten up; you get beaten for being suspected of eating beef and you get beaten up for being suspected to have included a romantic scene between your fictional film's protagonists.
Where is the Freedom of Expression and Art? Bollywood has given into this dangerous trend of giving into any squeak of protest they hear from any inconsequential sena or sangh. If you as a director had the courage and conviction to dream of story on celluloid then go all the way with it. Like history books in India are being saffronised, so will films be in the near future. First Bollywood had censors like Pahlaj Nihalani to deal with and now Senas who believe that they can dictate Art.
How many more examples does Bollywood need before it becomes a factory? Where people will watch films purged of religion, history, culture and imagination. You are showing the story of  the brave Rani Padmavati, sadly you do not posses that spirit of hers to stand bravely against her enemies. She is supposed to have committed Jauhar but you immolated the freedom of art.