Music Maestro Ilaiyaraaja's son Yuvan joins Hindi Theriyathu Poda movement, says 'I am Tamil pesum Indian'
The anti-Hindi movement that resurfaced after DMK leader Kanimozhi tweeted about facing harassment at the airport for not knowing Hindi two months ago, was further strengthened after Yuvan Shankar Raja and others joined the Hindi Theriyathu Poda movement.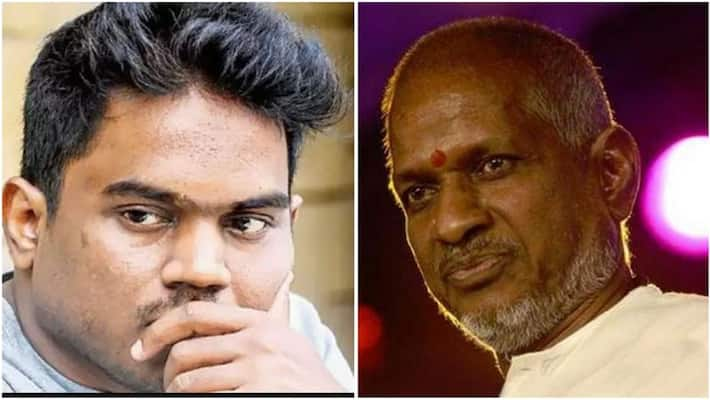 Music legend Ilaiyaraaja's son Yuvan Shankar Raja has joined the anti-Hindi movement.
The hashtag 'HindiTeriyathuPoda' has been trending on Twitter and was bolstered after actor Metro Shirish tagged a photo of a music director wearing a T-shirt with a bold statement against imposition of Hindi.
The white T-shirt of Yuvan had a statement printed which read, "I am Tamil pesum Indian" meaning 'I am a Tamil-speaking Indian'.
Also read:   When Oscar winner AR Rahman was schooled by maestro Ilayaraja for missing out notes at event
Standing next to Yuvan, Shirish's T-shirt read, "Theriyadhu Poda'. Within hours after the image hit Twitter on Sunday, social media was on fire with Tamils posting images and slogans against the "subjugation of South Indian Language".
The entrepreneur selling T-shirts with such slogans was flooded with phone calls for more orders and has already sold 500 T-shirts.
T-shirts with images of poet Subramania Bharathi-style moustaches, Thiruvalluvar, Periyar and Karunanidhi are flying like hot cake and more Tamil youths are taking imposition of Hindi head-on.
Some also commented saying all the public sectors and nationalised bank notifications are printed in Hindi and accused "evil-doers" of using Hindi as a tool to overpower Tamils.
Last Updated Sep 10, 2020, 11:34 AM IST