Malayalam actor Kalidas Jayaram gets engaged to Tarini, viral video captures heartwarming moment
Malayalam actor Kalidas Jayaram got engaged to his girlfriend Tarini Kalingarayar. The video of their engagement is getting viral on social media.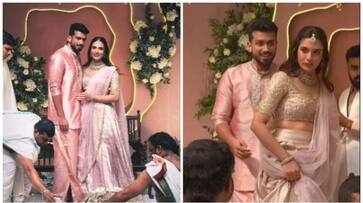 Malayalam actor Kalidas Jayaram is set to tie the knot with model Tarini Kalingarayar. A video capturing the engagement of Kalidas Jayaram is circulating on social media, generating excitement among fans.
Kalidas Jayaram officially confirmed his relationship with Tarini on Valentine's Day. During the She Tamil Nakshatra Awards 2023, Kalidas publicly revealed that he is getting married soon. Accompanied by his girlfriend, Tarini Kalingarayar, Kalidas made the announcement at the event. When Tarini received the 2023 award for Best Fashion Model, the host invited Kalidas to the stage. In response to the presenter's question about their relationship, Kalidas shared that they were going to get married. The video from the She Awards, featuring Kalidas proposing in Surya's voice and later Tarini lifting the Kalingarayas, quickly became popular.
Tarini, the partner of Kalidas Jayaram, holds a degree in visual communication. Fans began to speculate about the actor's relationship when they saw a photo featuring Jayaram, Parvathy, Malavika Jayaram, Tarini Kalingarayar, and Kalidas Jayaram together. Kalidas shared this photo on Thiruvonam day last year, and it sparked rumors about his romantic involvement. The actor later confirmed his love on Valentine's Day.
"Natchathiram Nagargirathu," featuring Kalidas Jayaram as the lead, has finally been released. The film is directed by Pa Ranjith, with cinematography by A Kishore Kumar. Dushara Vijayan plays the role of the heroine in the movie.
Last Updated Nov 11, 2023, 3:43 PM IST