Kriti Sanon's teacher shares touching message for actress on her National Award win
Teacher's Day 2023: Making this day more memorable and special for the talented diva actress Kriti Sanon who won the hearts of audiences, fans and netizens with a brilliant performance in Mimi and also won a National Award for it, the ex-teacher of Kriti Sanon has dropped a heartwarming message for Kriti which is unmissable.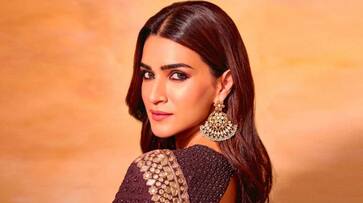 From an engineering student to a National Award-winning Actor, Kriti Sanon has come a long way in her career since this Delhi girl made her big debut in Bollywood 9 years ago. Today, she is winning one of the most prestigious awards for Best Actress as she won the 69th National Award for her phenomenal performance in Mimi and continues to ascend the ranks of the Indian film industry with unparalleled success. While her family, friends and the industry showered her with love and best wishes, her teacher sent out a message for the actress on Teachers Day about how proud they all are of their alumna. Just as Kriti Sanon is a renowned personality now as an engineer- model- actor- entrepreneur- and producer. It turns out she always used to be a multitalented student, as her ex-teacher revealed.
ALSO READ: Scam 2003: Gagan Dev Riar opens up on his prep, experience of working with Hansal Mehta and more
The ex-teacher of Kriti shares, "Hey Kriti, we are so proud of you. What a wonderful achievement to get a National Award for your film Mimi. We at DPS RK puram have always known that you would create a niche in the film world. In school, I remember in class 6th, what a wonderful dancer you were, and always occupying the centre stage. When I became your class teacher in 11th, I realised that not only were you a wonderful dancer, but you were so academically oriented- one of our toppers, a great speaker and a great writer. You were a part of the poetry club and the student council. It was always evident that you would create a niche in your future life, doing engineering, going to the world of films and reaching here, at this point, getting the National Award. Congratulations to you from all of us. And all the best."
Mimi has etched its place as an iconic film in Indian cinema, especially made memorable due to the lead star, Kriti Sanon and her impeccable performance as the titular character. Be it the dance number Param Sundari, her bold and sassy personality or her nuanced performance and multi-layered character arc in the film. Kriti won hearts with Mimi. She became established as a top performer by being the big star she always was.
On the work front, Kriti will share screen space with Tiger Shroff in 'Ganapath Part 1', a robotic love story with Shahid Kapoor, 'The Crew' with Kareena Kapoor Khan and her maiden production venture, 'Do Patti' which also stars her in the lead along with Kajol.
ALSO READ: Jaane Jaan trailer: Kareena Kapoor, Vijay Verma's film to release on Netflix soon; read details
Last Updated Sep 5, 2023, 4:54 PM IST