Khichdi 2 Teaser: Promises adventurous roller-coaster ride that explores Parekh family's new dynamics
Mission of Khichdi 2 The teaser for Paanthukistan promises an exciting roller coaster trip that delves deeper into the complexities of the Parekh family.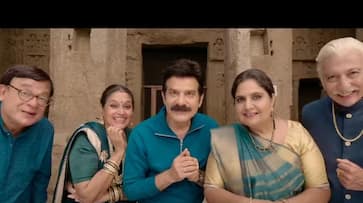 Back in action are Hansa, Praphul, Himanshu, Bapuji, and Jayshree Bhabhi! Fans have been impatiently anticipating to see their favourite humorous characters since Khichdi 2's announcement. The 'Khichdi 2 - Mission Paanthukistan' producers unveiled the trailer for the upcoming film on Saturday, September 30th, and it had everyone incredibly pumped for the Parekh family's comeback. The teaser opens with Himanshu declaring, "Har mission impossible hota hai," quoting Shah Rukh Khan's Pathaan and Salman Khan's Tiger. Toh kisi ko Pathaan, kisi ko Tiger poora karta hai. Then he declares that the "mahaan" Parekh family has joined us for a covert mission. The legendary words in the trailer, including Hansa's "main toh thak gaye bhaisaab," make you feel nostalgic.
Khichdi 2-Mission Paanthukistan, the highly anticipated sequel, is preparing to light up the big screen and tickle your funny bone this Diwali, according to a statement shared by the film's creators earlier this year when the movie was first announced. The renowned Parekh family is poised to deliver twice as much laughter and mayhem in this brand-new cinematic installment, carrying on the heritage of more than two decades of entertaining India. The only Indian sitcom that began as a stage play and went on to become a film, web series, and subsequent comic adventure, is Khichdi.
This Diwali season, Khichdi 2 - Mission Paanthukistan is slated to be the ideal holiday treat for moviegoers, providing an amazing film experience filled with fun and happiness. The film, which was written and directed by Aatish Kapadia and was made by Jamnadas Majethia (JD), Supriya Pathak Kapoor, Rajeev Mehta, Anang Desai, Vandana Pathak, and Kirti Kulhari, is an exhilarating roller-coaster ride that explores new facets of the Parekh family's dynamics. On November 17, "Khichdi 2 - Mission Paanthukistan" will be released in theatres.
Last Updated Sep 30, 2023, 1:35 PM IST