KBC 15: Jaskaran Singh breaks silence on show being scripted, says makers pick winners for big prize money
Jaskaran Singh finally responded to claims that the game show is scripted and the winners are chosen by the producers in an exclusive interview with India TV.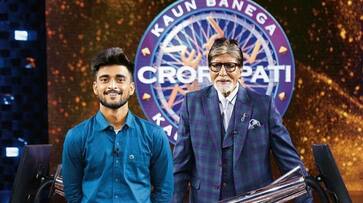 The iconic actor Amitabh Bachchan is the host of one of the most-watched game programmes on Indian television, Kaun Banega Crorepati. In the 23 years since the show's debut in 2000, numerous crorepati have appeared on the show. Jaskaran Singh, a 21-year-old aspirant to the IAS who recently won Rs 1 crore, becoming the season's first crorepati. He even tried to answer a question worth Rs 7 crore after earning Rs 1 crore in prize money but failed. However, he received a lot of praise for his victory and has been inundated with calls and letters. 
ALSO READ: Singer Joe Jonas spends quality time with daughters after filing divorce from Sophie Turner
In the midst of all the joy, there was a small section that questioned the show's winners (crorepatis). Some have alleged that the show is scripted and that the producers choose winners for large prizes who come from respectable backgrounds. In an exclusive interview with India TV, Jaskaran discussed these accusations and said he believes that when people are ignorant of something, they assume. 
He said: ''Its all about knowledge. Knowledge cannot be scripted. Why don't everybody wins Rs 7 crore prize money. Then every season must have a Rs 7 crore winner, if the makers of the show wants huge TRP. More and more people will watch the show and attempt to participate. Those who have never participated in KBC only they will put such allegations as they are not aware of the reality,' The 15th season of Kaun Banega Crorepati is now airing on Sony Entertainment Television on weekdays at 9 o'clock.
ALSO READ: Laapataa Ladies: Aamir Khan, Kiran Rao come together for new movie; set to hit theatres on THIS date
Last Updated Oct 26, 2023, 6:04 PM IST