Laapataa Ladies: Aamir Khan, Kiran Rao come together for new movie; set to hit theatres on THIS date
Aamir Khan and Kiran Rao reunite for 'Laapataa Ladies,' a comedy-drama set in rural India, premiering at TIFF on Sep 8, 2023, and hitting screens on Jan 5, 2024, generating immense anticipation among fans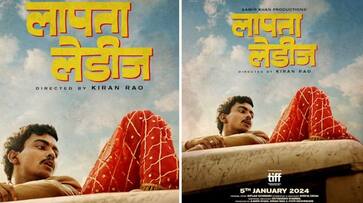 Aamir Khan and Kiran Rao have once again teamed up for their upcoming directorial venture, 'Laapataa Ladies,' presented by Jio Studios. The highly anticipated film is scheduled to hit the silver screens on the 5th of January, 2024. This marks Kiran Rao's return as a director after a hiatus of over a decade, following her debut directorial, 'Dhobi Ghat.'
The makers of 'Laapataa Ladies' have already offered a tantalizing glimpse into the world of this comedy-drama, promising a blend of a quirky narrative, witty dialogues, and an ensemble cast of exceptional talent. The film boasts a stellar lineup including Nitanshi Goel, Pratibha Ranta, Sparsh Shrivastava, Chhaya Kadam, and Ravi Kishan in lead roles.
The audience has been eagerly anticipating the release of this film, and the official announcement of its release date on the 5th of January, 2024, has only intensified the excitement. The collaboration between Aamir Khan and Kiran Rao has generated considerable buzz, and viewers are eagerly awaiting Kiran Rao's much-anticipated directorial return after 'Dhobi Ghat.'
Even before its official release, 'Laapataa Ladies' is set to make a significant mark on the international stage. The film will have a grand premiere at the prestigious Toronto International Film Festival (TIFF) on September 8th, offering a sneak peek to audiences well in advance.
The story of 'Laapataa Ladies' unfolds in the year 2001, set against the backdrop of rural India. It delves into the humorous chaos that ensues when two young brides become separated from a train, leading to a series of comical adventures.
ALSO READ: Rakesh Roshan celebrates 74th birthday with friends and family; see pictures inside
Presented by Jio Studios, 'Laapataa Ladies' is directed by Kiran Rao and produced by the dynamic duo of Aamir Khan and Jyoti Deshpande. The film has been crafted under the banners of Aamir Khan Productions and Kindling Productions, with the screenplay adapted from an award-winning story by Biplab Goswami. Sneha Desai is credited with the screenplay and dialogues, while Divyanidhi Sharma has contributed additional dialogues.
ALSO READ: Kusha Kapila breaks silence on receiving hate for divorce from ex-husband Zorawar Ahluwalia
Last Updated Sep 7, 2023, 3:24 PM IST