KBC 15 gets its first Rs 1 crore winner, Amitabh Bachchan asks Rs 7 crore question; watch video
Kaun Banega Crorepati 15 has got its first ever crorepati! The first competitor in the current season to attempt the final Rs 7 crore question is Jaskaran from Punjab.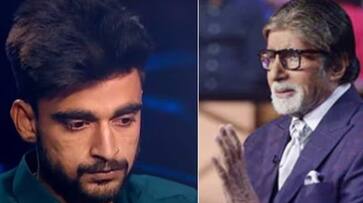 This season's first crorepati has been announced after 13 days of Kaun Banega Crorepati 15! The first participant to win Rs 1 crore on KBC 15 is Jaskaran from Punjab, according to a new trailer for the quiz-based reality show. Amitabh Bachchan, the host, is seen asking him the last question for Rs. 7 lakh. On September 4 and 5, at 9:00 p.m., Sony Entertainment Television will broadcast the episodes with Jaskaran.
ALSO READ: Jungkook turns 26: Read these 7 motivational quotes by the BTS star
Jaskaran is shown earning the coveted Rs 1 crore sum on KBC 15 in a new ad that was shared on Sony Entertainment Television's official Instagram account. "Paar kar har mushkil Punjab ke chhote se gaon Khalra se aaye Jaskaran pahunch chuke hain iss khel ke sabse bade â17 crore ke sawaal par," said the post's caption. On the 4th and 5th of September, Somvaar-Mangalvaar raat 9 baje, sirf #SonyEntertainmentTelevision par (sic), Dekhiye #KaunBanegaCrorepati will air.
Amitabh Bachchan announces that Jaskaran has won Rs 1 crore at the beginning of the advertisement. The next presentation is a video on the contestant's private life. He is a resident of a Punjabi small-town community. He claims to be one of the few graduates from the region in the video. He is likewise getting ready for the UPSC entrance test. The final Rs. 7 crore query from Big B to Jaskaran is asked in the promo.
On Sony TV, "Kaun Banega Crorepati 15" airs Monday through Friday at 9:00 p.m. Additionally, you may watch it on the SonyLIV app. Regarding the format, the show has experienced some revisions. Additionally, there is a device known as "Super Sandook" that enables the contestants to recover any items they might have misplaced throughout the game show. In order to increase audience engagement, the show also includes a second life queue called Double Dip and the component Desh Ka Sawal.
ALSO READ: Taylor Swift's Top 10 Songs: 'Love Story' to 'All Too Well', journey through her iconic melodies
Last Updated Sep 1, 2023, 1:07 PM IST