Jungkook turns 26: Read these 7 motivational quotes by the BTS star
Celebrating Jungkook's 26th birthday, BTS fans worldwide express admiration through creative tributes. Jungkook's inspirational quotes and recent musical achievements add to the festivities, showcasing his profound influence and talents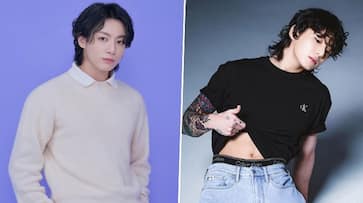 Korean musical sensation and the youngest member of BTS, Jeon Jungkook, is celebrating his 26th birthday on September 1st, igniting immense excitement among ARMY, the group's global fandom. More than just a birthday, this day signifies a festival of love, dedication, and creative expressions of admiration for the talented vocalist. As his special day approaches, fans worldwide are gearing up for grand celebrations, flooding social media platforms with pictures and videos showcasing Jungkook's presence in iconic locations.
Among the captivating birthday events is the Hotel Seven-themed cafe celebration, named after his recent release. The dreamy atmosphere promises to create an unforgettable birthday experience. In New York City's Times Square, a tribute to his Billboard record for "SEVEN" adorns an iconic billboard, a testament to BTS's global reach and the ARMY's profound love for Jungkook.
The love for Jungkook extends to India as well, with billboards showcasing the "SEVEN" crooner and special tributes at locations like a bus stop in Mulund. Even Delhi boasts a Jungkook-themed cafe where fans are hosting a celebratory party in his honor.
ALSO READ: Jawan trailer at Burj Khalifa: Shah Rukh Khan's witty response to fan booking an entire restaurant to meet him
Jungkook, affectionately referred to as the "maknae" (the youngest) of BTS, consistently inspires with his wisdom and uplifting words. Here are seven motivational quotes that remind us of the strength within us all:
1. You should build your own goals and dreams. I think it's really sad that some people don't get a chance to build their own dreams because of outside pressure.
2. Effort makes you. You'll regret it someday if you don't try your best now. Don't think it's too late but keep working on it. It may take time but there's nothing that gets worse when you practice. You may get sad, but it's evidence that you are doing good.
3. Without anger or sadness, you won't be able to feel true happiness.
4. I can't just say 'cheer up no matter what', but in the midst of that difficulty, try to find that small happiness.
5. There's no knowing what will come, but hard work will get us somewhere.
6. For those of you who are working: no matter how frustrating, how tough, I hope you can overcome it and become an even stronger person.
7. It may take time but there's nothing that gets worse when you practice. You may get sad, but it's evidence that you are doing good.
Just before his birthday, Jungkook's recent release "SEVEN," featuring Latto, achieved a remarkable feat on Spotify by becoming the fastest song by a male artist to surpass 500 million streams. Beyond his musical accomplishments, Jungkook continues to captivate with his evolving style, including a new haircut that stirred fans' excitement when he casually revealed it while dancing to "Seven." Clearly, the world is celebrating not only his birthday but also his talents and influence.
ALSO READ: Ram Kapoor turns 50: 'Neeyat' star inspires fans with his weight loss journey; sheds 30 kgs
Last Updated Sep 1, 2023, 12:24 PM IST