Karwa Chauth 2023: Shilpa Shetty begins celebration; shares video of Sargi thali
Bollywood icon Shilpa Shetty shares her Karwa Chauth preparations on Instagram, offering a look of the beautifully arranged Sargi.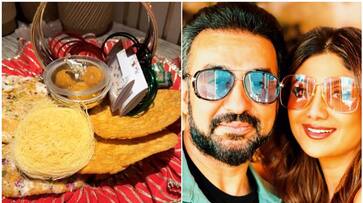 Today, marks the auspicious celebration of Karwa Chauth, a Hindu festival where married women observe a fast to pray for the long and healthy life of their husbands. Notably, popular Bollywood actress Shilpa Shetty, who is married to businessman Raj Kundra, is all set to partake in the festivities. Shilpa recently took to her social media platform to offer a glimpse into her preparations for this special occasion.
On this occasion of Karwa Chauth, Shilpa Shetty took to her Instagram story to share a video of the beautifully arranged Sargi, an essential part of the day's traditions. The video featured an assortment of symbolic items, such as bangles, packets of bindi (decorative forehead dots), and an array of delectable sweets, including malpua, sutarpheni, and laddoos. The hamper also included a traditional sieve and some mehendi cones for adorning oneself as part of the shringaar (decorative and beautification) rituals. With the video Shilpa Shetty captioned - "#sargi #happyfasting❤️🧿❤️."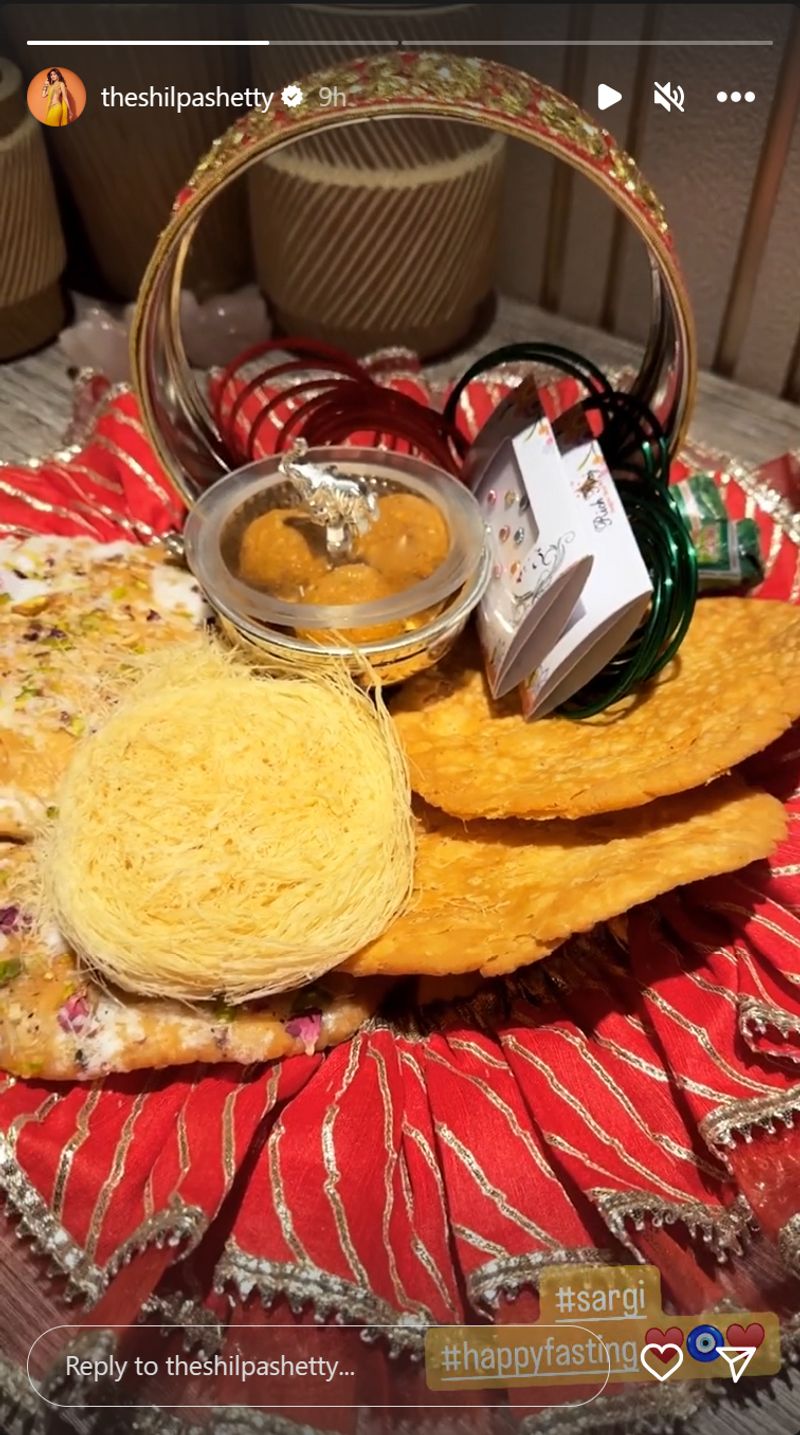 About Shilpa Shetty's work
The celebrated Bollywood actress Shilpa Shetty's most recent appearance on the silver screen was in the movie "Sukhee," which had its theatrical release on September 22 of this year. "Sukhee" is a cinematic creation under the directorial guidance of Sonal Joshi and boasts a collaborative writing effort by Sonal Joshi, Radhika Anand, Paulomi Dutta, and Rupinder Inderjit. The film features a diverse cast, with Shilpa Shetty taking the lead role alongside notable social media influencers including Kusha Kapila, Amit Sadh, Chaitannya Choudhury, Dilnaz Irani, Pavleen Gujral, Kiran Kumar, and Vinod Nagpal.
Looking ahead to her upcoming projects, Shilpa Shetty is all set to grace the screen in an action-packed Kannada film titled "KD - The Devil," directed by the talented filmmaker Prem. This much-anticipated movie stars Dhruva Sarja, Reeshma Nanaiah, Sanjay Dutt, and V. Ravichandran, and cinephiles can expect its release later in the current year.
About Raj Kundra's work
Raj Kundra is currently immersed in preparations for the impending release of his upcoming film, "UT69." The film's producers have recently unveiled the much-anticipated trailer, which opens with a gripping breaking news report highlighting Raj Kundra's arrest in 2021. This cinematic venture marks a significant departure for Raj as he ventures into the realm of acting for the very first time.
Within the trailer, Raj Kundra's character finds himself embroiled in challenging circumstances, navigating a tumultuous journey within the confines of prison. This intense narrative promises to captivate audiences with its compelling storyline. The much-anticipated release of "UT69" is slated to grace the silver screen on November 3 of this year.
ALSO READ: Karwa Chauth 2023: Here's how Kiara Advani's mehndi looked like, what she ate for sargi
Last Updated Nov 1, 2023, 3:36 PM IST