Kannur Squad: Director makes his father proud with grand success of Mammootty starrer after 34 years; Read
'Kannur Squad' directed by Roby Varghese Raj and produced by Mammootty production house MammoottyKampany, is running successfully at the box office. Roby's father C T Rajan had produced the 1989 film 'Mahayanam' with Mammootty in the lead role.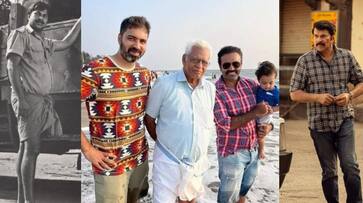 The much-awaited movie starring Mammootty hit the silver screen on September 28 and is running successfully at the box office. The film has received rave reviews for its making, script and technical aspects. The movie is directed by Roby Varghese Raj and produced by Mammootty himself under the banner of MammoottyKampany.
There is a background to Mammootty's friendship with Rony David Raj and Roby David Raj that few people are aware of. Their father, C T Rajan, was the producer of the 1989 film "Mahayanam," which starred Mammootty. Despite positive reviews from critics, the movie's poor box office performance left the producer deeply in debt, and he never tried his hand at making another movie. Now, many years later, Mammootty has unwittingly paid back those obligations with the success of "Kannur Squad," a movie made by his company.
Anju Mary Paul, the wife of film director Rony David Raj, posted this intriguing fact on Instagram. She shared a photo of Rony and Roby with their father along with a touching caption about their amazing reunion. Life has gone full circle, she said, explaining the connection and expressing her happiness.
She wrote on Instagram, "Happy to put this on my feed...with lots of love and mixed emotions. Pappa produced the 1989 Mammootty starrer film 'Mahayanam'. Even though film was critically acclaimed, it gave him huge financial loss and eventually had to give up producing. But his love for films was finely carried on to next generation... 34 years later his elder son @ronydavidraj wrote the script and younger one @robyraj_ Directed it with the same megastar Mammootty!! Life comes in full circle."
Roby made his directorial debut with "Kannur Squad," having previously served as the cinematographer on films including "Godfather," "Vellam," and "John Luther." The screenplay was co-written by Muhammad Shafi and Roby's brother and actor Rony David Raj. Furthermore, Rony also has a key role in the movie. This is Mammootty's Kompany's third movie, following "Rorschach" and "Nanpakal Nerathu Mayakkam." Wayfarer Films, owned by Dulquer Salman, handled the movie's distribution.
The real-life Kannur Squad, led by former Kannur SP Sreejith, served as inspiration for the movie. The film only concentrates on four police officers, as opposed to the nine members of the original squad, which is still in operation. The dialogue with actual police officers helped to carefully craft the script.
The film's squad members are portrayed by Mammootty, Rony David Raj, Sabareesh Varma, and Azeez Nedumangad.
Last Updated Sep 29, 2023, 10:34 PM IST