Kangana Ranaut bungalow demolition: Bombay HC stays BMC's drive
High Court of Bombay puts a stay order on the demolition drive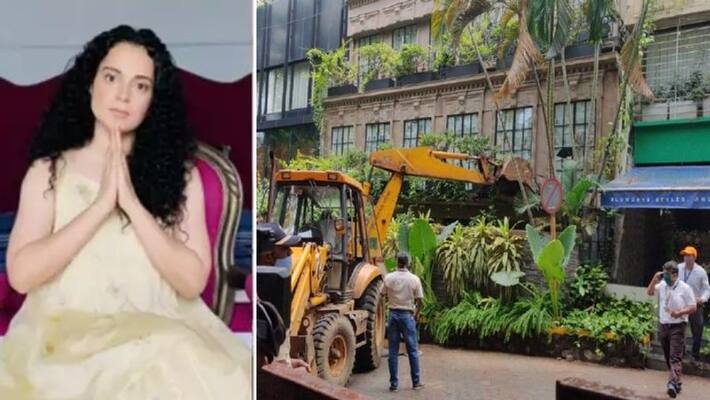 Mumbai: Kangana Ranaut has found it expensive to mess with the Uddhav government. The BMC came prepared to demolish the "illegal construction" at Kangana Ranaut's office located on Pali Hill Road in Bandra West. Talking to Aaj Tak, a senior BMC official said that we had given 24 hours to Kangana, but no response came from her side.
Meanwhile, Kangana Ranaut has been given Y-level security and will be protected wherever she goes with 10 armed commandos, who will work in shifts. The latest development came two days after BMC paid a surprise visit to her office and took a look at the premises. The survey was followed by a notice to stop the work at her premises.
The BMC engineer was convinced that the construction was illegal. "Therefore, the work carried out by you as mentioned in the notice schedule is declared as unauthorized," said the executive engineer
Meanwhile Kangana Ranaut's lawyer filed a plea in the high court against the demolition drive by Brihanmumbai Municipal Corporation (BMC) at her property. As per reports, the Bombay high court began hearing Kangana Ranaut's plea against BrihanMumbai Municipal Corporation's (BMC) demolition drive at her property in Mumbai.
The High Court of Bombay has asked the BMC to stop demolition of Kangana Ranaut's property. HC has asked to put a stay on BMC's demolition drive.
Kangana said that the civic body should focus on the shoddy state of roads instead of targeting her bungalow. Kangana Ranaut will arrive at Chatrapati Shivaji Maharaj International Airport in Mumbai shortly
Last Updated Sep 9, 2020, 3:26 PM IST