Jawan: Shah Rukh Khan, Vijay Sethupathi answer fun questions in new video [WATCH]
Jawan: Shah Rukh Khan, Vijay Sethupathi answers fun questions with regards to the movie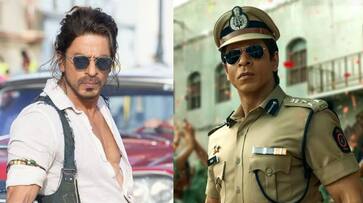 Shah Rukh Khan's Jawan is all set to hit the big screens this Thursday and the excitement among the audience is at its peak. After seeing the action-packed trailer, it's hard for the audience to wait for the release of the film, and the evidence of the same is well-witnessed at the advance booking windows where this action entertainer is creating records. 
Now, to elevate the ever-rising excitement, the makers have released a video via social media, titled 7 QUESTIONS FOR 7TH SEPTEMBER, which gives everyone a fun insight into the film. 
1)    Question for SRK: *1. Is it true that Atlee and you wanted to work together for a long time? * While answering this, SRK said, I met with Atlee during the making of Bigil and he went for the match of CSK and KKR. Ahead of this, Atlee had spoken to me about an idea for Jawan saying, 'It's you, sir, along with 5 girls and that's my film because my wife Priya and myself really feel that you look the nicest when you have a bunch of ladies with you in a film' and that's how Jawan started.
Furthermore, the video brought a question for Vijay Sethupathi playing the role of Kaali in Jawan. 
2)    Question for Vijay Setupathi - How did you get the role of villain in Jawan and are you the real villain in the film or Shah Rukh Khan is? While answering, Vijay Sethupathi reminisces about his interaction with SRK and Atlee. He told SRK, 'Sir I wanted to be a part of your film' to which SRK replied 'We were also thinking of you for the past few years' and that's how he got into this film. Moreover, while addressing who the real villain is in the film, him or Shah Rukh Khan? Vijay smartly answered both are playing their roles and are villains for each other.
3)    Question for SRK - Are you the villain or hero or vill-hero? Let us in on your secret?
Answering the same, SRK says, 'It's a common man, doing uncommon things for the common good of everybody'.
4)    Question for Vijay Setupathi - Your experience working with Shah Rukh Khan? 
While answering this, Vijay mentioned how he enjoys the way SRK gives interviews, with spontaneity and how intrigued he is! And how he keeps asking him lots of questions to know more about him as a person. 
5)    Question for SRK - Are you an action hero or just a guy with a great insurance policy? 
SRK responded to this jokingly saying my insurance policy is over! As he has been injured so many times no one wants to insure him. Furthermore he added, the only reason he likes doing action films is because his youngest son Abram loves cool films with action, anime and superheroes and he wants to do cool action films for him.
6)    Question for Vijay Setupathi - How do you prepare for such an intense antagonist role?
Vijay Sethupathi, said, 'I just know that I am good at choosing scripts and I do not want to bring anything  else into my headspace, I believe that it spoils the artist in my mind which I do not want to do.'
7)    What was your "That is why I signed up for Jawan" moment? 
While mentioning this one moment, SRK, said, "There is a shot where I am introduced as the bald hero (does the clapping action) and I remember Atlee putting a lot of powder in my hand and I think I sneezed also doing that shot, but when I finally saw the shot, and that's my moment for doing Jawan. 
ALSO READ: Shah Rukh Khan, Amitabh Bachchan spotted in black overcoats in viral video; creates excitement for new collab
With this, SRK left the excitement of the fans on edge and promised that there is a lot more than this in the film. The superstar further urges everyone to enjoy Jawan on 7th September 2023. 
'Jawan' is a Red Chillies Entertainment presentation directed by Atlee, produced by Gauri Khan, and co-produced by Gaurav Verma. The film will release worldwide in theatres on September 7th, 2023, in Hindi, Tamil, and Telugu languages.
ALSO READ: Jaane Jaan trailer: Kareena Kapoor, Vijay Verma's film to release on Netflix soon; read details
 
Last Updated Sep 5, 2023, 4:46 PM IST