Jawan director Atlee praises Deepika Padukone's expressive acting in Shah Rukh Khan starrer; Read
Director Atlee praised Deepika Padukone's exceptional acting skills, citing her expressive eyes as a highlight, in their collaboration on Shah Rukh Khan's successful film "Jawan." The interview also revealed how Shah Rukh Khan initially approached Deepika for the role, making it an intriguing behind-the-scenes tale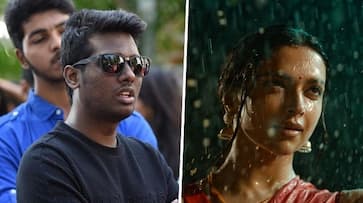 In a recent interview, director Atlee, who recently made his Bollywood debut with the action-packed film "Jawan," featuring Shah Rukh Khan in the lead role, opened up about working with Deepika Padukone and showered praise on her remarkable acting skills. "Jawan" is lauded as one of the biggest commercial successes in recent Indian cinema, making Atlee's Bollywood entry quite a sensation.
The movie, which also starred South Indian superstar Nayanthara as the female lead, had Deepika Padukone making a special appearance. Atlee discussed the intriguing behind-the-scenes stories of the film's casting and production.
Atlee, an acclaimed filmmaker, was deeply impressed with Deepika Padukone's performance in the movie. He highlighted her expressive eyes, which, according to him, conveyed the emotions and essence of the scenes more effectively than dialogues. This admiration led him to focus on close-up shots for many of her scenes in "Jawan." Atlee went on to reveal that he edited and fine-tuned several of Deepika Padukone's dialogues after working closely with her to let her expressions shine. He emphasized that any director working with the Bollywood star is indeed fortunate, as they can expect to capture precisely what they envision in a scene.
In an interesting twist, Atlee disclosed that it was Shah Rukh Khan who initially approached Deepika Padukone for the role of Aishwarya Rathore in "Jawan." Atlee had expressed his desire to cast the renowned actress in this pivotal role, and Shah Rukh Khan conveyed the same to his manager, Pooja Dadlani. However, Shah Rukh Khan had already approached Deepika for the part and stated that she would take it up if she liked the character. They planned to meet Deepika on the set of her upcoming film "Kalki 2898 AD." Deepika, after being thoroughly impressed with the plot and her character, readily accepted the project.
Last Updated Oct 28, 2023, 9:16 AM IST