Is THIS Kim Kardashian? American Horror Story's teaser out featuring Kim K, Emma Roberts and Cara Delevingne
Reality TV star Kim Kardashian will make her American Horror Story: Delicate debut. The latest video clip (teaser) shows three stars Kim Kardashian, Emma Roberts, and Cara Delevingne, as super-blondes with extreme, dramatic eyelashes, bleached brows, and bright red lips.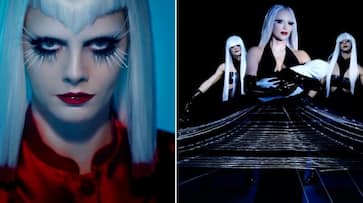 The FX network released the official teaser for the 12th instalment of the award-winning anthology series American Horror Story. According to the teaser trailer, part one of the new season is titled American Horror Story: Delicate, after Danielle Valentine's novel Delicate Condition. The official teaser emphasised the evil side of parenthood. Aside from confirming that it would premiere on September 20, the clip also revealed the first glimpse of three starring ladies—Kim Kardashian, Emma Roberts, and Cara Delevingne—all creepy. With their platinum blonde wig, lighter base to make their skin seem whiter, smoky eyes with over-the-top add-on lashes, and bold red lips, it's hard not to be inspired by Lady Gaga.
Also Read: Sunny Deol's 'Gadar 2' enters Rs 400 crore-club in 12 days; read details
The teaser video begins with the actresses' gazes. The following frame transports you to a room where women gathered in a circle sing a heartbreaking rendition of the traditional nursery rhyme Rock-A-Bye-Baby. There are several spiders and cobwebs thrown everywhere throughout the teaser. Emma Roberts yells while laying in a hospital bed at this point. The video also suggests that Cara Delevingne is playing a villain, since her unknown character is shown carrying a liquid-filled syringe. On the other hand, Kim Kardashian is seen in all black, clutching her baby bulge, which soon transforms into a big spider. Overall, the teaser is designed to give you chills till the conclusion, and Kardashian's all-black spider web dress moment is by far the most skin-crawling of the lot.
The video was captioned, "Watch the OFFICIAL TEASER for FX's AHS: Delicate Part One, premieres 9.20 on FX. Stream on Hulu."

The 12th season was initially announced in April, when one of the show's two creators, Ryan Murphy, disclosed in a post that Kim Kardashian will make her franchise debut opposite Emma Roberts. Murphy captioned her video, "Emma and Kim are Delicate." This next summer."
Also Read: Dunki: Shah Rukh Khan and Taapsee Pannu's film teaser will drop on THIS day
Aside from Kim Kardashian, Emma Roberts, and Cara Delevingne, the cast of American Horror Story: Delicate includes Michaela Jaé Rodriguez and a cameo from AHS staple Zachary Quinto.
Last Updated Aug 23, 2023, 9:14 AM IST