Independence day special: 13 patriotic songs that keep us hooked any time we tune in
On the occasion of India's 75 years of Independence day, Asianet Newsable enlists 13 songs that will remain an all-time favourite among Indians.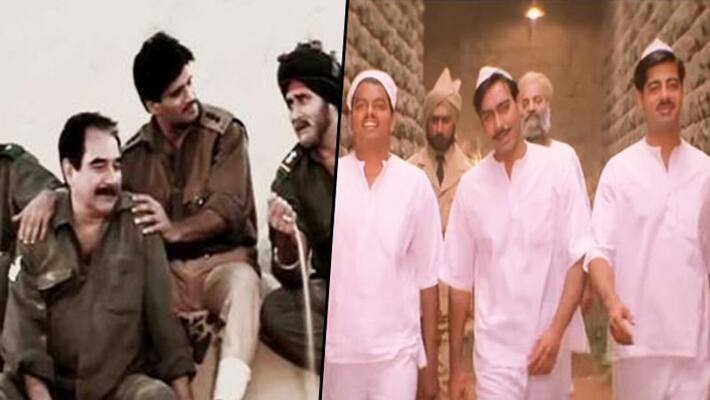 With India witnessing its 75th Independence on August 15, 13 songs will keep echoing in every India's street. Asianet Newsable has enlisted these songs based on their popularity on various media platforms and the customary practice of playing these songs during Independence and Republic Day every year.
Aye Mere Watan Ke Logo
To begin with, legendary singer Lata Mangeshkar's Aye Mere Watan Ke Logo' song from 1963 tops the list. National Poet Kavi Pradeep wrote the song in honor of Indian soldiers who laid their life during the Sino-Indian war.
Lata Mangeshkar sang this song live during Republic day in 1963 at the New Delhi's National Stadium and witnessed by PM Jawaharlal Nehru. After the national anthem, this song is the most played patriotic song in all the events during Independence Day and Republic Day.
'Mere Desh Ki Dharti' is another patriotic song, and it is from the film Upkar starring Manoj Kumar. This 1967 film's song is in praise of its land and rich culture and farmers' struggle. The songwriter Gulshan Kumar Mehta says that Indian crops are more precious than gems.
The song also earned the title 'Bharat' to lead character, Manoj Kumar.
'Sare Jahan Se Acha'
This song is written by poet Muhammad Iqbal a Muslim writer, philanthropist, and politician during British India rule in. The song was also featured in a weekly journal called Ittehad in 1904. The song is now sung and played during the Indian Armed Force march. The song impressed Mahatma Gandhi and when he was prisoned at Yerwada Jail he used to sing and hum this song a number of times.
'Kadam Kadam Bhadaye Ja'
This song is said to be giving goosebumps every time one listens. Presently used as a regimental march song by Indian forces was written by poet and freedom fighter Vanshidhar Shukla and composed by another freedom fighter Ram Singh Thakuri in 1942. During the parade of forces, this song is played.
Many music composers have lifted these lyrics to suit their work.
'Kar Chale Hum Fida'
The song is from the 1964 film Haqeeqat again based on the 1962 Indo-Sino war. The song was written by Shia-based Urdu poet Kaifi Azmi and composed by Madam Mohan. The interesting thing about Haqeeqat is that it was officially the first Indian film to be shot in Ladak then. Legendary singer Mohammed Rafi justified the song. The song writer's wife has dubbed this song as the second national anthem of India.
'Jahan Daal Daal Par Sone Ki Chidiya'
Is also one of the patriotic songs that is played during Independence Day and Republic Day. The song is from the film Sikander-E-Aazam in 1965 and legendary singer Mohammed Rafi sang the song.
'Har Karam Apna Karenge'
The 1986 film Karma's song Har Karam Apna Karenge song became the most played song during the late 1980s and early 1990s during Independence Day and Republic Day for the feel of patriotism it infuses. Singer Kavitha Krishnamurthy and Mohammed Aziz received appreciation for creating magic through their voice.
Mera Mulk Mera Desh
The song is from Ajay Devgan starrer Diljale in 1996. The song was sung by Kumar Sanu, Udit Narayan and Kavita Krishnamurthy. The Music director Anu Mallik The song is one of favorites during I-Day.
'Maa Tujhe Salaam'
The music album by Mozart of Madras in 1996 under the title 'Vande Mataram'. The song was released as a part of India's golden jubilee celebration of its Independence. It is becoming a craze among youths and also armed forces. It has become a practice to play this song every year on Independence Day and Republic Day. The song gives the feeling of unity and is said to be the largest-selling non-film album by Sony Music.
'I Love My India'
The song from Pardes, starring Shah Rukh Khan Mahamia Chaudhary, made a profound impact and infused a feeling of patriotism among many NRI's as well. Kavitha Krishna Murthy sang the song and Hariharan and its music was by Nadeem-Shravan. The song is a must in the playlist during I-Day and Republic Day events.
'Mera Rang De Basanti Chola'
This song is from the Legend of Bhagath Singh, played by Ajay Devgan in 2002. The song was originally written by Prem Dhawan in 1965 in Shaheed and sung by Mahendra Kumar, Mukesh, Lata Mangeshkar then was modified in 2002 by AR Rahman gave a new dimension recreated magic. However, both versions of the songs find their rightful place during occasions like I-Day and Republic Day.
'Rang De Basanti'
Another song that will be played during I-Day is Rang De Basanti, sung by Daler Mahendi from Rang De Basanti film of 2006 release.
The film connected well with the youth as the subject was centred around the corrupt and weak system, which would have led to the death of the Indian Air force person played by R Madhavan. The ensemble cast involving Amir Khan, Siddharth, Atul Kulkarni, Sharman Joshi and Soha Ali Khan and others
'Sandese Aate Hai'
The 1997 film Border's song Sandese Aate Hai was written by famous writer Javed Akhtar and its music was composed by Anu Malik. The multi-starring case involving Sunny Deol, Sunil Shetty, Akshay Khanna and others touched the heart of the Indian Armed forces. Soldiers still sing the song from their respective bunkers. This song is a sole pillar for the film's success as it highlighted the pain of soldiers and their families.
 
Last Updated Aug 15, 2021, 8:34 AM IST