Imran Khan talks about 'reshaping' his relationship with films; comeback with Abbas Tyrewala for OTT thriller
Imran Khan plans to return back to Bollywood, reflecting on past films, particularly "Break Ke Baad." On Instagram, he shifts from negativity to embracing positivity from fans. Imran's comeback project with director Abbas Tyrewala—an espionage thriller web series for an OTT platform—fuels anticipation--by Amrita Ghosh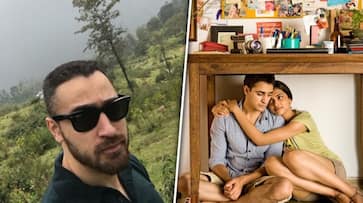 The 'I Hate Love Stories' actor Imran Khan, has recently hinted at a comeback to acting after a break of 8 years. The 'Jaane Tu… Ya Jaane na' actor also returned to Instagram after a 5-year hiatus from social media. The actor off-late has been sharing fond memories from his earlier films and 'Luck' and 'Break ke Baad'. In these posts he shared pictures of his shoot alongside Deepika Padukone.
Addressing his fans' curiosity about this sudden wave of nostalgia, Imran Khan took to his Instagram stories to clarify his intentions. He explained that he's currently reevaluating his relationship with his past films, as he used to view them through a negative lens. He clarified that he wasn't placing blame on anyone for anything, as all opinions are valid, and people naturally have differing tastes. He admitted that in the past, he had a tendency to focus on the negative aspects of his work.
ALSO READ: Nation Film Awards 2023: Mahesh Bhatt ecstatic after daughter Alia Bhatt wins Best Actress title
To second his point, the actor shared negative reviews of his films, and alongside he also posted positive reviews of people who loved the songs, and the music of the movie. He emphasized that while he gave importance to the negative reviews he did not acknowledge the love he received.
Also Read: National Film Awards 2023: Alia Bhatt, Kriti Sanon win best actress awar
As his Instagram story continued, Imran acknowledged his past mistakes. He realized that he had given too much importance to the critical voices that hurt him and had overlooked the voices of appreciation and love. He expressed gratitude to his fans for helping him shift his perspective and vowed not to repeat that mistake.
For his upcoming projects, Imran Khan is expected to end his eight-year acting hiatus with a web series. Reports suggest that he will collaborate with director Abbas Tyrewala, with whom he worked on "Jaane Tu...Ya Jaane Na," for an espionage thriller series on a prominent OTT platform.
This phase of Imran Khan's reconnection with his past and his renewed outlook on his work has excited his fans, who eagerly await his upcoming projects and the new chapter in his Bollywood journey.
Last Updated Aug 25, 2023, 12:56 PM IST