Imran Khan reunites with Genelia Dsouza in viral photo; is a new film project on the cards?
Jaane Tu Ya Jaane Na stars Imran Khan and Genelia Dsouza posed for a picture together recently. It left fans wondering if they were collaborating on another project. Read on. Imran and Genelia's viral photo shook Instagram and social media.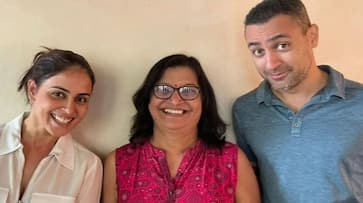 Jaane Tu Ya Jaane Na was released in 2008 and starred Imran Khan and Genelia Deshmukh in the lead roles. Almost fifteen years have passed since the film hit the theatres, yet this romantic cult remains a fan favourite. Recently, Imran and Genelia posed together for a picture, which sent fans into a frenzy. The picture went viral on social media, and fans wonder if another collaboration is on the cards.
ALSO READ: Was Priyanka Chopra a confidant of Sophie Turner before they unfollowed each other on Instagram? Read
A picture shared by an Instagram user shows Jaane Tu Ya Jaane Na stars Genelia Deshmukh and Imran Khan posing for a picture with her. The picture seems recent, and the netizen shared it with the caption, "Always lovely to meet these two!" Genelia and Imran are both seen flashing their brilliant smiles. While the actress looks lovely in a white top, Imran looks dapper in a blue collared t-shirt with beige pants.
This picture was shared on the Reddit page BollyBlindsNGossip with the caption, "Something new cooking? Would love to watch them together again." Needlessly, their ardent fans were excited to see them together after 15 years, and they wondered if the two stars would collaborate again.
While one fan commented, "Jaane Tu is my ABSOLUTE favourite movie. I would actually scream louder than I ever have. If they work together again," another one wrote, "If they make a JTYJN but where Jay and Aditi are parents. I would LOVE IT." A fan wrote, "Oh my god. Yes. Please. Just look at them. Haaye," read another comment on the Reddit post. Meanwhile, one Reddit user wrote, "Why do I think they would be the perfect choice for Indian Jake Peralta and Amy from Brooklyn99."
Meanwhile, in an interview, Genelia Deshmukh revealed that she and Imran still share a great camaraderie and keep in touch. She said that their kids are now in the same school, so they often catch up at the school. Imran Khan has a 9-year-old daughter, Imara. Meanwhile, Genelia and Riteish Deshmukh are parents to two sons, Riaan and Rahyl.
ALSO READ: Varun Tej-Lavanya Tripathi wedding: Pawan Kalyan spotted with wife Anna Lezhneva off to Italy
Last Updated Oct 28, 2023, 3:11 PM IST