Hrithik Roshan wins hearts of fans by taking 'metro' ride for shoot - Know details
All set to wow the fans and audiences with a compelling performance as a pilot in the much-awaited film Fighter, directed by noted Bollywood filmmaker Siddharth Anand, Greek God of Bollywood, Hrithik Roshan wins hearts of fans and netizens by taking the 'metro ride' for a shoot.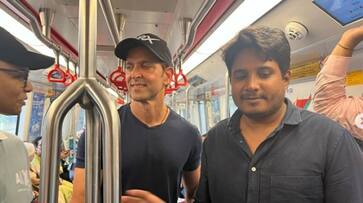 Indian Superstar and Greek god of Bollywood who will wow his fans and cinephiles with a phenomenal performance in the much-awaited action-patriotic-thriller poignant saga film Fighter, Hrithik Roshan knows how to make headlines, and this time, he has done it by taking the metro to work. As temperatures soared, the actor opted for a quirky, cool and environmental-friendly commute, leaving his luxurious car behind.
ALSO READ: Gal Gadot extends support to Israel; emotionally reveals 'My heart is breaking'
In a surprising move which is winning the hearts of fans and netizens on the INTERNET, Hrithik joined the daily grind of the metro, blending in with commuters and proving that even the biggest A-lister global superstars enjoy a hassle-free journey. He took to his Instagram to share a lovely post with his fans, who seemed happy to have seen their favourite superstar travelling with them! He captioned it, "Took the metro to work today. I met some sweet and kind folks. I am sharing with you the love they gave me. The experience was spectacular. Beat the heat + the traffic. Saved my back for the action shoot I am going for."
Post these pictures that took Instagram by a storm of love, the ardent fandom can not stop pouring comments filled with affection for the actor. A few people took to their Instagram to comment, "Celebrity who believes in living life of a common man. A hats off to you. Sir." The other personalities commented, "The sweetest post on Instagram today. "Wow. It is amazing to see @hrithikroshan sir," and "A life in a metro," among many other sweet comments. On the work front, this actor is all set for the grand release of his upcoming project, 'Fighter' which will be released on 26th January 2024.
ALSO READ: Karan Johar's old clip of calling Shweta Bachchan 'biggest stalker' goes VIRAL
Last Updated Oct 13, 2023, 6:16 PM IST