Here is how Ayra Yash turned into teacher for Yatharv
Radhika Pandit shared a cute video of siblings Ayra and Yatharv spending some quality time together. Radhika had shared a similar video of Ayra a year ago.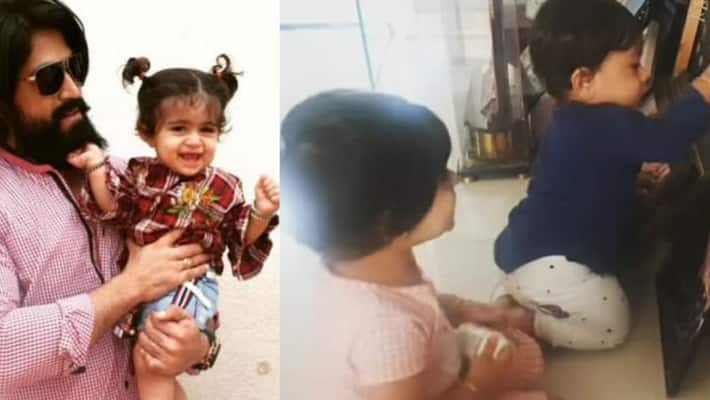 Bengaluru: Sandalwood actress Radhika Pandit has shared a cute video of her two children spending some quality time together.
The video shows Yash and Radhika's first child Ayra showing her younger brother pictures of their parents.
In the video cute little Ayra is seen pointing at photo frames and telling her baby brother who the people in the pictures are.
Radhika Pandit has captioned the video "When the student becomes the teacher, my job is done".
Well we could not agree less with Radhika's opinion on Ayra turning into a teacher for her younger brother.
Also read: Karnataka bandh likely on September 28; farmers to continue protest until September 26
The reason we say this is, almost a year ago, Radhika Pandit had shared a similar video of Ayra where she was seen pointing fingers at pictures of her parents Yash and Radhika, and the toddler could barely even speak.
However, in just a year the two-year-old has become a responsible older sister and is seen taking good care of her brother Yatharv.
Yash and Radhika Pandit are quite active on social media and often share glimpses of their little munchkins.
The new video has received close to 1.20 lakh likes on Instagram in just over an hour of it being uploaded and the toddlers sure do have a huge fan following already.  
Last Updated Sep 23, 2020, 1:35 PM IST