From ginger tea to onion pakoras, here's how TV stars enjoy the monsoon
Here are a few TV stars and celebs expressing their love for the monsoon and their favourite snack of the season. Read on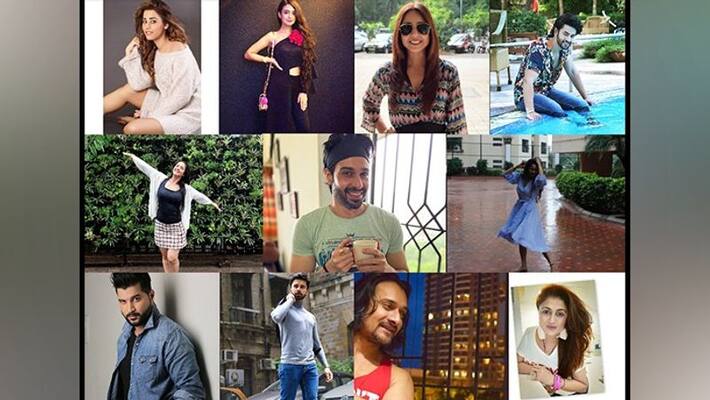 Monsoon is already here, and Mumbaikars welcome it every year with open heart. It's the same this season too, except they are avoiding going out because of the pandemic. 

Shashank Vyas: These are the days when we used to go Khandala or Lonavala on a drive but now things have changed due to the pandemic. We need to be extremely careful as life is much more important than having fun. But you can still enjoy sitting on the balcony and sipping ginger tea.
Vijayendra Kumeria: Monsoons make your surroundings look beautiful. I love going on long drives when it rains but this year due to the pandemic I haven't done that. This year I am enjoying the rain through the windows of my house with some hot tea with paneer pakoras. 
Vikas Sethi: Monsoon is my favourite season of the year. Due to the Pandemic, we have not been able to go to the Marine Drive or drive down to Lonavala. But my house has some fantastic views so we have been enjoying the rains from the beauty of our home. My all-time favourite snack during the monsoons is samosas and favourite drink is rose-flavoured green tea.
Jhanvi Sethi: This monsoon has been a difficult one because one has not been able to get out to really enjoy getting wet in the rain. We have a fantastic home with two open balconies and hence we are able to enjoy the cool breeze, and some really scenic views. My favourite monsoon snack is pakoras, and I love teaming it up with chai.
Arun Mandola: Monsoon is one of my favorites because I love "mitti ki khushboo". I feel nature is talking to me, and I feel very much loved and energetic. I sit on my balcony with green tea and look at the sky and birds. Bread pakora with ginger tea is my favourite monsoon snack. Unfortunately, because of the pandemic, I am not able to go out, but I am enjoying this beautiful weather from my home.
Aaira Dwivedi: Monsoon is my favourite season. I love the rain and everything about the Mumbai monsoon. If it's a day off from my work then I love going out on a drive with my close buddies. I don't mind traffic jams during the rains as everything looks so beautiful. Music and rain make for a perfect combo. I let my inner child come out in the rain and love to dance on the terrace barefoot with friends. I love to have bhuttas, hot snacks and team it up with hot ginger tea. But this year due to the pandemic, we are not able to go out to enjoy the rain, but I will enjoy this monsoon in the same way from my balcony.
Avinash Mukherjee: The monsoon season is best enjoyed by sitting at home. I did not miss going out in the rain as my mom doesn't allow me because it's cold. At night when you are working, and it's raining outside it gives you a very positive mood, so rain brings positivity, happiness, a sign of prosperity and happiness to farmers. We would give or create a shelter at our society gate wherever possible for stray dogs and cats so that they can come and sit. My favourite snack is chai and samosa or onion pakoda.
Bhoomika Mirchandani: I love monsoon, but I am a girl who doesn't step out when it's raining, unless I have important work. I can sit and enjoy the rain from my window for hours. I feel this season is not good for singles as it's romantic outside and I feel like I could have someone with whom I can go on a drive. My favourite monsoon snacks are samosa with tea. I am not a tea lover but whenever it rains I always have tea.
Pranitaa Pandit: Yes, the monsoon has arrived in Mumbai, but I am waiting for it to come full-fledge. Monsoon is my favorite time of the year and I love walking and dancing in the rain. Whenever it rains, the food that comes to our mind is pakoras with tea, that is my favorite snack. I love the smell of mud, it is very refreshing, it changes my mood. This year is going to be different because every year we plan a small trip nearby, we usually go to Lonavla, Khandala, these are places I love visiting during monsoon, but this year I am going to be at home, thanks to the situation I will be enjoying it from home.
Khushbhoo Kamal: I am not a person who likes monsoon so much, because when we get out it is muddy. I prefer sitting at home and enjoying the rain and try not to go out if it is not very necessary even during the monsoon. My favourite snacks are ginger tea with samosa once in a while and watch good films, read good books, during monsoon I love that chilly weather.
Meera Deosthale: I love monsoon. Sadly, this year, because of the pandemic we are locked in our houses, but I made sure I went down and got wet in the rain. It's my own happy tradition that I do every year. My favourite food in this season is mom-made pakoras, I feel pakoras add a punch to the beautiful weather outside.
 
Last Updated Jul 23, 2020, 4:10 PM IST