Maharaja: Jawan star Vijay Sethupathi SHOCKS netizens and fans with his latest poster
The first look poster of Vijay Sethupathi's 50th film " Maharaja" was released on Sunday in Chennai. Apart from Vijay Sethupathi, Anurag Kashyap, Mamta Mohandas, and Natti Nataraj are playing the lead roles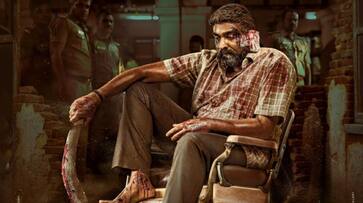 Actor Vijay Sethupathi is garnering much praise for his villainous role in the film Jawan. Amid Jawan's craze, the makers of Vijay's 50th film, Maharaja, released a new poster. The first look poster of the film was released was released on Sunday in Chennai.
Sethupathi took to stage at the launch and became very emotional as he spoke about the film. The actor said to the media, "Thank you for your praise and criticism. 50 is not expected at all. It's like a milestone. How far we have come gives us hope. Also, it adds experience. This includes patience and wisdom. Thanks to all the directors and artists who gave me good experiences."
Vijay Sethupathi also shared the poster of the Maharaja on his social media handles. In the poster, a wounded Vijay is sitting on a barber's chair with a sickle in his hand. Vijay shared the poster on his social media handles with the caption, #MaharajaFirstLook."
As soon as the poster was released, several netizens hailed the movie as the next blockbuster from Vijay Sethupathi.
 Apart from Vijay Sethupathi, Anurag Kashyap, Mamta Mohandas, and Natti Nataraj are playing the lead roles. The film is directed by Nithilan Swaminathan. He is the director of the acclaimed film Kurangu Bommai. The music for the film is by Ajaneesh Loknath. The cinematography is done by Dinesh Purushothaman.
At the same time, Vijay Sethupathi is making his Bollywood debut with the villainous role of Kali. Vijay Sethupathy is the antagonist who plays the role of an arms dealer in Jawan.
Red Chillies Entertainment officially announced on Sunday that Jawan has crossed the 300 crore club in three days.
Last Updated Sep 11, 2023, 11:15 AM IST