Since when is Rahman 'Bollywood'? London fans display their ignorance
Fans walked out of Rahman concert in Wembley, on July 8
The Hindi-speaking fans left the venue citing lack of Hindi songs
They even demanded a refund alleging cheating
A R Rahman, the first one to take Indian music to international level had the most bitter experience in his life when the fans walked out of his concert alleging that the songs were in Tamil. He's the only one from the country to win a Filmfare, Grammy, Oscar, BAFTA and Golden Globe. 
All these didn't seem to impress his Hindi-speaking fans in the UK who left the Rahman concert in Wembley, on July 8, citing lack of Hindi songs. They even demanded a refund alleging cheating. Angry fans also took to Twitter to express their disappointment. 
That was my first ever Tamil concert guys. Albeit completely unintentional #ARRahman #SSEArena #Fail #Refund?

— Omer Chowdhury (@OmChow) July 8, 2017
Was total disaster,for someone who made his name in Bollywood(at least on sheer numbers) it was disrespectful from him,even speaking Tamil

— Apoorva Dixit (@apoorva_dixit) July 9, 2017
As the Twitter war broke out some were wondering what the fans were thinking when they took the ticket for a Rahman concert titled 'Netru, Indru, Naalai' meaning 'yesterday, today, tomorrow.'
The concert was titled 'Naetru Indru Naalai'. Which language do you think it is, dumbheads?😂 #ARRahman #ARRForever #UK

— Divine Bovine (@DesiSage) July 12, 2017
So here's why you shouldn't be surprised by the songs performed by Rahman, especially if you claim to be his fan. 
The title
First of all, the concert itself was titled 'Netru, Indru, Naalai' which cannot be mistaken for any other language but Tamil.
The Mozart of Madras
He is known as 'The Mozart of Madras' because he is from Madras, which is now called Chennai, the capital of Tami Nadu where people speak Tamil. 
Bollywood composer tag
The tag 'Bollywood composer' was given by international media which has no idea that his work in 'Slumdog Millionaire' for which he won two Academy Awards is not even a patch of his productions for Tamil cinema. 
Music has no language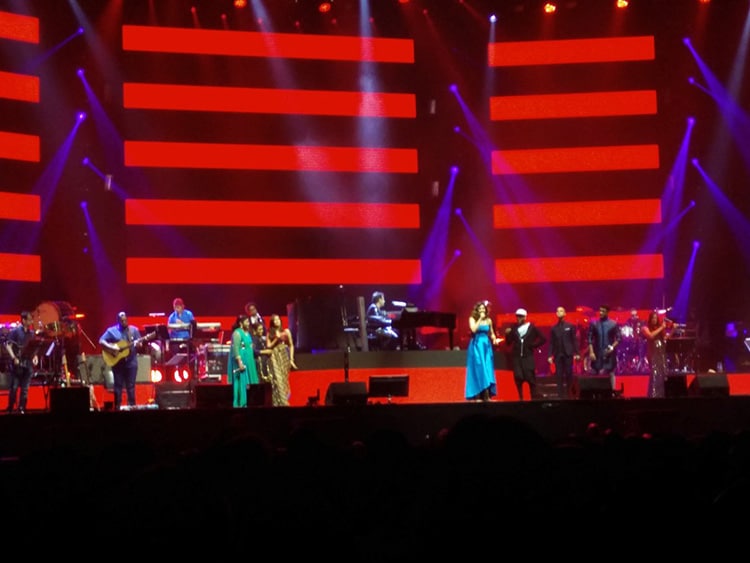 What about the cliche that music has no language. Even those who cannot get a single word in Tamil can dance to most of his famous tunes like 'Urvasi Urvasi'  and 'Why this Kolaveri di.' 
Roja his debut
Well, if all these are not convincing enough, you only have to look at one of his most classic works, songs in Roja. The Tamil movie was his debut, directed by Mani Ratnam, who also happens to be from Tamil Nadu. Maybe Hindi songs of the film are popular, but the original film is Tamil only, which was later dubbed in Hindi.
Twitter user @musicaloud tweeted that he was at the venue and published the set list which included 16 songs and 12 Tamil. 
Some pics from today's gig #arr #wembley pic.twitter.com/4IV5W2FZtI

— MusicAloud (@MusicAloud) July 8, 2017
Several other fans also flocked to his defence, and some even went to the extent to call the incident a classic example of 'imposing Hindi' on South Indians. 
 
lol! Few ppl who term us as parochial when we speak for our linguistic rights are very upset about #ARRahman show. #nammametrohindibeda

— Girish Kargadde (@girishkargadde) July 13, 2017
This is how v feel when Hindi is imposed or Hindi songs r in list in Yuva Dasara Mysuru or Hindi is heard in flight announcement.#ARRahman

— Abhi Nandan (@Abhinandan248) July 13, 2017
Everyone saying they want a refund for #ARRahman concert.Why?Yes the songs were in Tamil. His originally a Tamil singer.#ssearena #norefund

— ThinkLikeArt (@ThinkLikeArt) July 9, 2017
Here's what the organisers have to say to his 'fans' who created a hallaboo at his latest concert. 
Last Updated Mar 31, 2018, 6:58 PM IST