Exclusive: Vikas Khanna shares MasterChef India will have 'greatest guest chefs', reveals exciting challenges
For Vikas Khanna, the best challenge that is coming up for the contestants is 'My Universe of happiness' which will be given by fellow chef and judge Pooja Dhingra.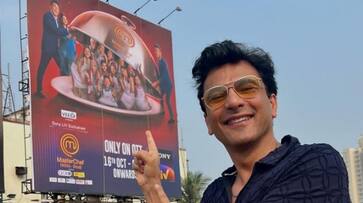 The highly and most anticipated cooking reality television show 'MasterChef India' is back with its new season. The show is set to premiere today and ahead of its first episode, Asianet Newsable got in touch with Chef Vikas Khanna who gave some interesting insides on the show. He even discussed how cooking defines one's personality, and the show's hashtag, and also revealed that the audience will witness the greatest guest chefs of all time. 
Cooking defines one's personality 
Throwing light on the show's #harPlateEkKahaniHai, Khanna said, "The hashtag is absolutely appropriate and this is one of the best tags the show has ever used because I think every plate is telling a story of where the contestants come from, their inspiration and how they are adapting to MasterChef. So 'Kahani' (story) is the same just the 'kirdar' (character) changes."
Food preferences post COVID-19 
According to Khanna, there has been a significant change in everyone's food preferences since the pandemic since individuals have had more time to breathe and grow. After the pandemic, everyone became more interested in the health component, the cooking factor, the learning factor, knowing more about food, learning about cultures, and so on. He also stated that he is quite glad that people are becoming interested in the ingredients in the meal.
Amazing guests for the show
Khanna reveals that this season will include one of the finest guest chefs. They will be culinary icons and global recognitions, and it will be interesting to observe how home cooks learn from them.
Exciting challenges 
For Vikas the best challenge that is coming up for the contestants is 'My Universe of happiness' In this challenge, Chef and Judge Pooja Dhingra brought in all of her favorite desserts. Terming it 'best as ever', the 51-year-old said, "The deserts were all eggless, and it blew my mind how detailed everything with Pooja went. In this challenge, the country will stop to see what she could have bought in this challenge."
Advice to stand-out from competitive entertainment
"I believe that while the contestants are not the best cooks, they are the best aspiring chefs. At this moment, many are learning, but those with ambition will only go forward. Everyone falls in life, but how quickly they rise and how they deal with setbacks is something to be aware of." 
MasterChef India's new season has its launch episode today at 8 p.m. on SonyLiv.  
Last Updated Oct 16, 2023, 4:41 PM IST