Exclusive! South star Nassar on 'The Jengaburu Curse', working with Nila Madhab Panda, Kamal Haasan's advice
In a recent interview with Asianet Newsable, the renowned South industry star Nassar, got candid about his experience of working in OTT with 'The Jengaburu Curse' and spoke about many other things. He also opened up on film closest to his heart.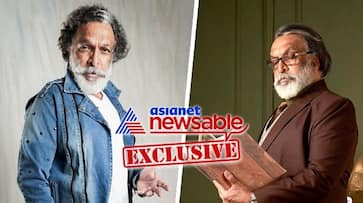 Nassar is a multi-faceted star and one of the biggest names in the South film industry today and needs no further introduction. He has given unforgettable and nuanced impressive performances in films like Iruvar, Nayakan, Jeans, Roja, Thevar Magan, Kuruthipunal etc. His most loved and iconic acting chops in Telugu are films like Chanti, Seshu, Bhageeratha, Athadu, Pokiri, Golimaar, Shakthi, Dookudu, and Businessman. Speaking to Asianet Newsable, the South industry veteran star opened up on his experience working in Jengaburu Curse, what drove him to take up this project and more. Opening up on the main factor that made him go ahead with The Jengaburu Curse, Nassar said, "It was so exciting and thrilling to go through this whole process of making 'The Jengaburu Curse'."
ALSO READ: Ghoomer trailer OUT: Abhishek Bachchan, Saiyami Kher's unique sports drama is enigmatic, inspirational
Talking about reasons why he decided to do this web series, Nassar said, "There are reasons why I decided to take up this project. Firstly, The Jengaburu Curse is based on real-life incidents. Second, director Nila Madhab Panda is a good director who always makes content-oriented films based on social issues. The final is that the storyline was something raw and exciting."
While talking about 'The Jengaburu Curse' being fiction and any element of realism in it, Nassar shares, "For the sake of making it more interesting, the director has made it in a different way. Also, the way in which the series got shot is intriguing, but the issues discussed in the series are very much real. It is not a fictional issue. It is something that is happening and relevant. The aim of the series is to make audiences aware that all these happenings took place in reality and it is not something fictional."
Talking about the experience of working with ace filmmaker Nila Madhab Panda in the series, Nassar added, "I worked with many directors, but Nila is something different. He narrated the script to me from the heart, not his brain. Nila knows whatever issue is happening in the series is relevant. He talked about the storyline from the heart. I remember the first day of the script reading. It all started with meditation which no one has ever attempted. So in all ways, he is very unique. I liked the way how he narrates and how he has conceived."
When asked about is working in OTT more challenging than working in films, the 'Iruvar' star Nassar adds, "No, I do not think that it is any level of challenging than working in films. The only thing in OTT is that you get more exposure and more time to get into the character and prepare yourself for the same. You get to go out of your comfort zone and explore new characters."
When asked about any nostalgic anecdote or memory that he can share with us after working with the biggest stars in the South and bollywood industry, Nassar said, "Yes, I have worked with many. But I remember that Kamal Haasan used to say, 'In Tamil, it sounds better. An artist should be proud about himself. Be human, be humble. You have to be proud about whatever you do about the artist.' It is real. I follow it as it has inspired me in many ways."
We also asked the 'Baahubali' star Nassar about his take on the rumours that only Tamil industry actors can work within Tamil films. Giving an answer to this, Nassar said, "They cannot pass a resolution like that. When I am sitting here and acting in Hindi films, how can somebody pass a rule that only Tamil actors can act in Tamil films? It got wrongly interpreted, as nobody spoke about that. The said rule got passed for the technicians and workers who work in the industry. The rule was that you have to only use the local and regional technicians for working in Tamil films. It was not about actors in the first place."
Giving details on one of the characters close to his heart, Nassar added, "I did a movie called Kuruthipunal in 1995, which got dubbed as Drohi in Telugu. I played the negative character in that film. But the way we approached my character was very different and unique. It got well appreciated by fans and audiences also. Kuruthipunal is a movie that is closest to my heart."
ALSO READ: Dayaa LEAKED: JD Chakravarthy's film release on Hotstar is now out on torrent sites
Last Updated Aug 4, 2023, 8:29 PM IST