Emraan Hashmi to be back on Koffee With Karan? Here's what the Murder 2 actor said
Emraan Hashmi reflects on his controversial Koffee With Karan appearance, acknowledging making enemies. Despite past apologies, he hints at returning, predicting a more chaotic rapid-fire round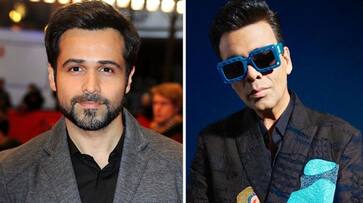 Emraan Hashmi, known for his candid remarks, recently acknowledged the controversies surrounding his appearance on Koffee With Karan Season 4 and hinted at the possibility of making a return to the show. In a recent interview with Zoom, the Tiger 3 actor admitted that his previous stint on the chat show had resulted in him making many enemies.
Revisiting the past, Emraan Hashmi and Mahesh Bhatt's appearance on Koffee With Karan Season 4 in 2014 stirred up a buzz, especially due to Emraan's controversial comments about Aishwarya Rai Bachchan and his Murder co-star Mallika Sherawat. The actor, now reflecting on those remarks, shared his perspective on the situation.
Reacting to the frequent resurfacing of clips from his Koffee With Karan rapid-fire round on social media, Emraan Hashmi humorously remarked, "You end up making many enemies." When questioned about his absence from chat shows and whether the fear of stirring controversies led to it, he confessed, "It's too much to handle."
Emraan Hashmi, known for his unfiltered responses, expressed that if he were to return to Koffee With Karan, things might take a chaotic turn. He quipped, "If I go on Koffee With Karan again, I'm gonna make a mess of things again. I think I'll be worse off in the rapid-fire round than I was before."
Addressing the controversies stemming from his previous appearance, Emraan clarified that his comments were not meant to target the individuals mentioned. Instead, he attributed his outspokenness to the competitive nature of the show and the desire to win the coveted Koffee hamper. "Because it's an opinion, and I don't really have anything against these people. I just wanted to win the hamper. It just becomes a competitive thing, and you say these weird things," he explained.
In 2014, Emraan Hashmi had issued an apology after referring to Aishwarya Rai Bachchan as 'plastic' on the show. At that time, he clarified to Hindustan Times that it was the format of the show that led him to make such comments, emphasizing his admiration for the actress.
ALSO READ: The Crown season 6 Part 1: Elizabeth Debicki as Princess Diana takes away cake from the Late Queen Elizabeth
Emraan Hashmi's willingness to embrace his candidness and potential for controversy adds an intriguing element to the prospect of his return to Koffee With Karan, promising entertainment for fans and curiosity about the actor's unfiltered responses.
ALSO READ: 'Tiger 3' box office collection Day 5: Salman Khan, Katrina Kaif-starrer mints Rs 187.65 crore
Last Updated Nov 17, 2023, 3:08 PM IST