Dunki: Mukesh Chhabra raves about Shah Rukh Khan, Rajkumar Hirani's unbeatable collaboration; Read
Casting director Mukesh Chhabra praises the Shah Rukh Khan and Rajkumar Hirani collaboration in "Dunki," calling it an unmatched combination, while also lauding Hirani's mentoring as an "institution" in the film industry. The highly anticipated film is set to release during the Christmas weekend and features Tapsee Pannu, Vicky Kaushal along with Shah Rukh Khan himself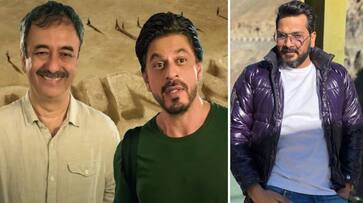 Renowned casting director Mukesh Chhabra recently shared his thoughts on the highly anticipated project "Dunki," featuring the iconic Shah Rukh Khan and directed by the talented Rajkumar Hirani. During an interview with Humans of Bombay, Chhabra expressed his enthusiasm for the film and its potential impact. He described it as a significant moment in his career, as it marked his third collaboration with Shah Rukh Khan after "PK" and "Sanju," having also worked together on various advertisements.
Chhabra underscored the significance of Rajkumar Hirani's involvement in the project, especially after Shah Rukh Khan's triumphant comeback with the action-packed successes of "Pathaan" and "Jawan" following a five-year hiatus. Fans continue to celebrate Shah Rukh Khan's electrifying performances in these films even months after their release.
The casting director couldn't contain his excitement about "Dunki," and he shared, "Voh aisi film hai ki voh kahaani aapke sabke gharon main dil main aise bas jayegi that you will only talk about that film for the next 10 years" (It is such a story that would find a place in your heart, and you would talk about it for the next 10 years). He described it as a beautiful and captivating story, emphasizing that the combination of Shah Rukh Khan and Rajkumar Hirani was unparalleled in the film industry.
ALSO READ:Has Anil Kapoor's Instagram account got 'hacked'? Actor's posts and display picture removed - READ
Chhabra went on to say, "I don't think there can be any greater combination than this, not in the film industry, at least. Dono apne game main top pe hain. Dono ek saath aa rahe hain toh kamaal ki baat hai" (Both of them are on top of their games. Both are coming together, so it would really be great)."
In addition to his praise for the film and the collaboration between Shah Rukh Khan and Rajkumar Hirani, Mukesh Chhabra also expressed his deep respect for Hirani. Referring to the director as an institution, he remarked, "Raju sir ke saath kaam karna ek poora film school hai. Ek institute hain voh. Aapko itna seekhne ko milta hai unse ki aapko kisi film school main jaane ki zaroorat hai. Voh apne aap main poore school hain" (Working with Raju sir is like a film school. He is an institution. You get to learn so much from him that you don't have to go to any film school. He is a complete school in himself).
Shah Rukh Khan's eagerly awaited collaboration with Rajkumar Hirani in "Dunki" is scheduled for release during the Christmas weekend. The film also features acclaimed actors such as Taapsee Pannu and Vicky Kaushal, making it one of the most highly anticipated releases in the upcoming year.
Last Updated Oct 21, 2023, 9:15 AM IST