Deepika Padukone-Ranveer Singh wedding video: At Koffee With Karan 8, couple shows their shaadi tape (WATCH)
Five years after their romantic Lake Como wedding ceremony, Ranveer Singh and Deepika Padukone revealed their wedding. They talked about it on Koffee With Karan. Also, the wedding video left Karan Johar emotional. Watch the video here.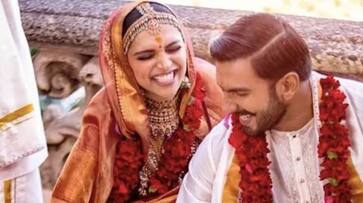 Ranveer Singh and Deepika Padukone shocked fans by airing their wedding video on Koffee With Karan 8. The duo made their first combined appearance as a couple on a talk show with Karan Johar's show, where they discussed their love story. If that wasn't enough of a delight for DeepVeer fans, the actors also shared an emotional wedding film showing off their Sindhi and South Indian wedding rites.
The film started with Ranveer presenting a toast at his wedding, revealing that he had previously stated that he would marry Deepika Padukone, and that the day had finally arrived. The movie then cuts to sentimental scenes from their wedding, like Ranveer correcting Deepika's make-up and proclaiming his love for her minutes before the wedding ceremony, among other things. The wedding film also included clips from their family discussing Ranveer and Deepika. Karan Johar was moved to tears by the wedding video.
View the video here:
The Wedding Filmers, who also shot Deepika Padukone's wedding sequence in Yeh Jawaani Hai Deewani, shot the wedding video. The team stated on Instagram that Deepika asked them to record her wedding video during the production of YJHD.
"During the filming of "Kabira" for "Yeh Jawani Hai Diwani", I had the honor of directing her. On a crisp evening, amidst rounds of Pictionary by the poolside with the crew, she leaned in and said softly, "When the time comes for my wedding, I'd be honored if you would be the one to capture it." I was taken aback, a blush creeping up unnoticed. She held onto that sentiment, gently reminding me of that whispered promise during her wedding film's screening years later," the team said.
"Set against the stunning backdrop of Como, The Wedding Filmer had the distinct honor of encapsulating the magical union between Bollywood's icons, Deepika Padukone and Ranveer Singh. It wasn't just about documenting their wedding day, but rather weaving a tale of love, trust, and commitment. Some stories are so close to the heart that they're held close, and perhaps they wanted this narrative to be theirs alone for a time. As we mark our 13th year in building an industry, releasing this film stands as a testament to our journey and growth. Premiering on the esteemed platform of 'Koffee with Karan', it's not merely a film, but a milestone in our storied legacy," they added.
Meanwhile, the first episode of Koffee With Karan 8 is now streaming on Disney+ Hotstar. 
 
Last Updated Oct 26, 2023, 8:35 AM IST