Deepika Padukone in the new Coca-Cola ad reminds us to take life easy.
The Bollywood actress brings in fun, dance and a new infectious energy.
Ever been stuck in an elevator? Ever felt claustrophobic and suffocated in that shoe-box? Well, so has Padukone, even though she's a celebrity who can basically glide through life in the ship of love her fans have built for her. But the xXx: Return of the Xander Cage star reminds us that her life is filled with everyday problems and there's only one way to deal with it: through dance.
The actress in the new Coca-Cola advert lets her crazy come out when she's stuck in an elevator with a waiter. While most of us would move around restlessly or sigh about our unfortunate luck, the Bajirao Mastani actress strikes a friendship with the waiter and watches him as he transforms into a desi Elvis Presley.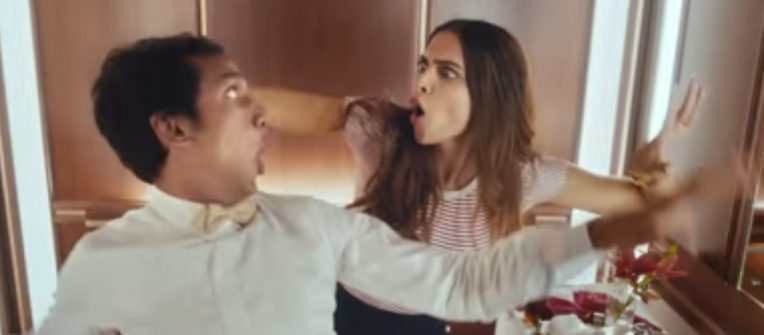 There's only one theme to this ad and it is this: forget about finding love or your next date in an elevator. Instead, unleash your dance moves even if you end up looking like Taylor Swift at every award show.  
Now, it's possible that a sticky situation may not take place in an elevator but the important truth here is to live in the moment, find the rhythm in your feet and rope in a friend who has the same energy as you. This could truly transform your life and help you in achieving your goal to look as happy as Padukone.
While the Padmavati actress brims with joy in the advert, we wonder if her boyfriend Ranveer Singh has rubbed off some of his energy on her?  What do you think? Let us know.