Darshan-starrer Kurukshetra trailer released, movie to hit screens on August 9
Multi-starrer and the movie with the biggest budget in Sandalwood, Kurukshetra, is all set to release on Varamahalakshmi festival, August 9. Here is the second trailer of the movie.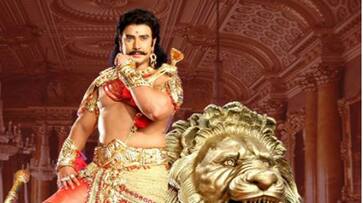 Bengaluru: Darshan, Ambareesh, Ravichandran, Sonu Sood and Nikhil Kumaraswamy-starrer Kurukshetra is all set to release on August 9. The second trailer of the movie has been released, much to the delight of fans.
Kurukshetra is the most awaited movie as it has top actors from Sandalwood playing pivotal roles. It is also the most expensive movie made in Kannada. The movie will release on the day of Varamahalakshmi festival on August 9.
Though the shooting was completed months ago, the release of the movie was delayed due to the volume of graphics work needed in the movie.
Kurukshetra is directed by Naganna and bankrolled by Muniratna, who was recently disqualified by former Speaker Ramesh Kumar after he went against the Congress and resigned from the legislator's post.
The movie is produced under Muniratna's banner KCN Movies.
The main attraction of the movie is the star cast. Fans will be able to see one of their favourite actors Ambareesh, who passed away on November 24, 2018, on screen in his last movie.
The film's star cast also includes Arjun Sarja, Bharathi Vishnuvardhan, Sneha, Haripriya, Meghana Raj among others.
The technical crew has Jayanan Vincent behind the camera, Jo Ni Harsha to edit the movie. The screenplay is by JK Bharavi.
The movie will release in five languages including Kannada, Malayalam, Hindi, Telugu, Tamil and others.
Last Updated Jul 29, 2019, 7:38 PM IST