Britney Spears makes revelation; shares ex-boyfriend Justin Timberlake ended '3 year relationship' via text
Britney Spears reveals in her upcoming memoir that Justin Timberlake broke up their three-year-long relationship in a text message. Read on. Britney Spears has made an explosive reveal about the same and shared that Justin Timberlake broke their relationship over a text message.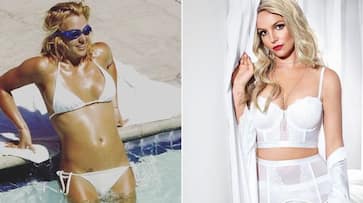 In Britney Spears' upcoming memoir, The Woman in Me, Britney Spears talks about the fact that Justin Timberlake ended their three-year relationship via text message in 2002. Grammy-winning songstress Spears and Timberlake shared a history. They dated for three years, between 1999 and 2002. In this period, they were one of the most iconic couples. Britney also reveals in the memoir that during this time, she got pregnant but eventually ended up having an abortion.
ALSO READ: Has Kartik Aaryan refused 'appearance' on Koffee With Karan Season 8? Know details
Spears' memoir also talks about the aftermath of the split, with Timberlake publicly suggesting infidelity on Britney's part with his song Cry Me a River. Spears, on the other hand, writes about feeling emotionally distressed while he appeared carefree in Hollywood. She admits to kissing choreographer Wade Robson during their relationship but says that happened because of rumours of Timberlake's cheating.
The memoir doesn't stop there. It also talks about Spears' discomfort with Timberlake, discussing their sex life publicly and suggests that Timberlake pressured her into a secret abortion. She talks about the agony she felt. She reveals that it remains one of the most painful experiences in her life.
All these shocking revelations from Britney Spears' memoir have had a strong reaction from fans. People have been calling out Justin Timberlake for the way he treated Britney during their relationship. Several old news interviews have also surfaced where Justin is disrespectfully talking about Britney. He got quoted, sharing, "If I was writing an article about her, I would not be able to fight the urge to write every dirty thing about her. I dated Britney for half my life. But I do not know that person anymore. I am not sure I knew her before."
ALSO READ: Bigg Boss 17: Kangana Ranaut yells 'Siyaapaa'; actress grooves with Mannara Chopra on 'London Thumakda'
Last Updated Oct 23, 2023, 4:30 PM IST