Bigg Boss 17: Show conducts individual press conference for Jigna Vora, all you need to know about her case
Jigna Vora was an ex-crime reporter who was accused of being involved in the murder of fellow journalist J Dey.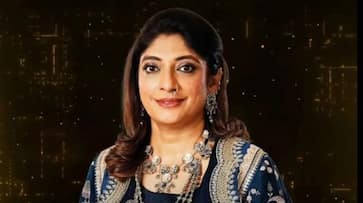 The television reality show 'Bigg Boss 17' is known for bringing out the real personalities of the contestants and is also a platform where people express the truth about something that is hidden from the world. In the 17th season, there is a contestant named Jigna Vora who was a former journalist and was accused of being involved in the murder of a fellow journalist. On Thursday, for the first time, Bigg Boss conducted an individual press conference which created history in the show. 
Press conference
Bigg Boss lets people from the media enter the house and threw questions at Jigna. During the press session, the 49-year-old talked about the allegations that were against her and recalled her time in jail. 
Jigna said that she is still upset with the media for failing to support her during her difficult time in jail. Jigna was questioned harshly about her time in prison and how her life in prison altered her permanently. She stated that she did not wish to know why she was chosen to suffer. "I want bygones to be bygones," she stated. 
Jigna, who appeared genuinely saddened even after so many years, claimed that after being released from jail, she lost her enthusiasm for reporting and is now continuing it by writing novels and is currently working on her second book which is fiction. 
She claims she hasn't tried to figure out who did it or why because it won't get her those 12 years back. Jigna stated that she was a strong lady, which could be why she was targeted. One of the reporters also asked her about her relationship with a police officer when she was in jail and mentioned that it was speculated it was because of him that she got a clean chit. 
Jigna Vora case
Late journalist J Dey was shot dead while he was on his way home in Powai on June 11, 2011. According to the prosecution, Satish Kalia, Anil Waghmode, Abhijeet Shinde, Nilesh Shendge, Arun Dake, Mangesh Agawane, and Sachin Gaikwad of gangster Chhota Rajan's men followed Dey from his mother's residence. Before departing with the rest of the gang, Kalia shot him with a 32-bore pistol at Powai Garden.
Jigna was exonerated of all charges in 2018, and she later went on to write a book about her story, 'Behind Bars In Byculla'. In May 2023, director Hansal Mehta along with Netflix released a series called 'Scoop' which was based on Jigna's life.
Last Updated Oct 20, 2023, 3:41 PM IST