Bigg Boss 17: Abhishek Kumar loses his cool; twists ex-girlfriend Isha Malviya's hand
October 24 was Day 9 of 'Bigg Boss 17' contestants who are all locked up in the house. In the episode, Abhishek Kumar got possessive seeing ex-girlfriend Isha Malviya get close to Munawar Faruqui. In reaction, Abhishek lost his cool and twisted the hand of his ex-girlfriend, Isha Malviya.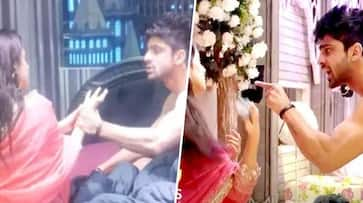 Bigg Boss 17 premiered on October 15, with Salman Khan returning as host. This season has many intriguing contestants. In the previous episode, October 24, exes Isha Malviya and Abhishek Kumar got into another tiff. Abhishek got aggressive as he saw Isha getting close to Munawar Faruqui. He also twisted her hand while Isha told him he was hurting her. On Day 9 of the episode, Abhishek Kumar said he was feeling low as Isha Malviya ignored him.
ALSO READ: Annapoorani teaser out: Nayanthara portrays progressive woman in 75th film - Watch
Abhishek also got possessive seeing Isha get close to Munawar and told her, "Jaa uske (Munawar) saath chipak ke baith, give your hand to him, stick with him, go (Go and sit with Munawar, give your hand to him). Whenever I come, you make faces, and on my back, you are happy. You have always been like this." He aggressively got up from bed. Isha got a little scared. She said, "Do not get aggressive, Abhishek. It is not right."
Abhishek also twisted the hand of his ex-girlfriend Isha and said, "He (Munawar) was holding your hand like this. He can hold your hand like this." Meanwhile, Isha said, "Abhishek, leave it. My hand is hurting."
Later, Abhishek charged into the room of Isha and screamed at her, saying, "Listen to me, mereko kisi se yahan pe jitne bhi log hai, kisi se faraq nahi padta, mujhe sirf tere se farak padta hai, tu merese alag se react karegi toh mera dimaag kharab hojaayega. Tu mere saath galat behave mat kar. Seedhi si baat hai, please. Agar mujhe saare ignore kar de farak nahi padta tu mujhe ignore mat kar. 4 mahine ke baad jo karna hai kar lena please."
Isha answered, "Despite everyone ignoring you, I still came to talk, but you twisted my hand. You have issues with me. You then yelled at me. People think I am ruining your image here. I can not take your aggressive behaviour anymore."
ALSO READ: Shraddha Kapoor's Dussehra delight: Red Lamborghini Huracan Tecnica joins her fleet [WATCH]
Last Updated Oct 25, 2023, 12:38 PM IST