Angelina Jolie and ex-husband Brad Pitt's ongoing row over $160 million vineyard gets much complicated
In one particular email, dating back to May 25, 2022, Pitt exposed the invitation of Yuri Shefler to Angelina Jolie to visit his Scottish castle in Scotland. Now this ongoing scuffle between Brad Pitt and Angelina Jolie over a $160 million vineyard is getting more complicated with each day.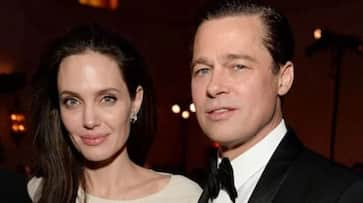 Brad Pitt and Angelina Jolie, once a beloved couple, have been at the centre of a high-profile breakup and are making headlines for years. In a recent turn of events, Daily Mail has disclosed a series of email exchanges that shed light on the close and unexpected friendship between Angelina and Russian vodka tycoon Yuri Shefler. These emails have surfaced amid Brad accused the two of plotting against the Fight Club star. One particular email, dating back to May 25, 2022, has come out in court documents filed by the legal team of Brad Pitt, disclosing the invitation of Shefler to Angelina to visit his Scottish castle on the Tulchan estate in the Speyside region of Scotland.
ALSO READ: 'The Woman in Me': Andy Cohen reveals 'unsettling' 2013 interview with pop queen Britney Spears
Just months prior to this invitation, 'Mr and Mrs Smith' star Angelina had sold her part of the French winery, Chateau Miraval, to Shefler for $8.5 million. This deal made Brad furious. He filed a lawsuit for breach of contract. In the legal battle, the Inglorious Bastards star has accused the company of Shefler attempting a takeover of the wine business that he had shared with his former wife. On the other hand, Shefler claimed that the actor was trying to damage the business relationship between Shefler and Angelina.
The mysteriousness surrounding whether Angelina Jolie accepted the invitation of Yuri Shefler to visit his Scottish castle remains unsolved. Meanwhile, Angelina and Brad Pitt purchased the land in 2008 for approximately $27 million. At that point, they had become equal owners of the vineyard and its business. In the legal case, Brad had claimed that the actress had decided to sell her share without informing him and also stated that her actions were a calculated attempt to damage the reputation of the business and decline his investment.
In a leaked email obtained by Vanity Fair, Angelina Jolie spoke with Brad Pitt on January 21, 2021. She shared her intention to distance herself from a business which involves alcohol. In response, the actor was interested in purchasing the land from her. However, when she declined to sign a non-disclosure agreement (NDA) preventing her from publicly discussing their well-known in-flight altercation, the deal tumbled.
The legal battle between Brad Pitt and Angelina Jolie took another turn as her investment company, Nouvel, filed a $350 million lawsuit against Brad in July. They accused him of "wasting the company assets" and spending an amount on renovations of a swimming pool and construction of a recording studio on the property. They alleged that Pitt had looted the wine business and treated it as his personal cashbox.
ALSO READ: Varun Tej, Lavanya Tripathi's Wedding: Allu Arjun spotted at airport, En Route to Italy for celebration
Last Updated Oct 28, 2023, 4:34 PM IST