Angad drops 'emotional note' mourning loss of his father Bishan Singh Bedi on Instagram - SEE POST
Angad Bedi spoke about his father, Bishan Singh Bedi and his shocking death for the first time in an Instagram post. The former cricketer died on Monday. Angad Bedi expressed his surprise at the unexpected demise of his father.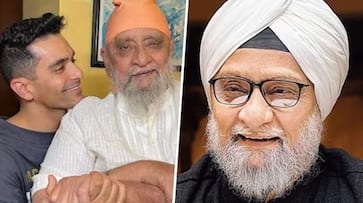 Angad Bedi penned a heartbreaking note after the demise of his father, legendary cricketer Bishan Singh Bedi. He died on Monday, October 23, at the age of 77. Taking to Instagram, Angad shared a picture of his late father with a heartbreaking letter. He expressed how the unexpected death of his father took everyone by surprise, much like the balls of his father, Bishan Singh Bedi. The actor said that while he and his family are in shock by the death of Bishan, he is finding solace in knowing that Bishan lived a fulfilled life.
ALSO READ: Kajol gives cute pose with cousin Rani Mukerji; drops snap of son Yug and nephew Aaman serving Bhog
He shared, "Isn't it completely in Dad's character to bowl us over with the ultimate spin ball, one that even we never saw coming? While we are in shock and overcome with grief, we find solace in knowing that he lived a rich, fearless and full life that inspired many. We are moved by each and every message of love we have received, publicly and personally."
Angad added, "Thank you to everyone for celebrating his grit, humour and giant heart. It is heartwarming to see how many generations Dad inspired through his life. Every day of his life was spent in devotion to his family and faith, and in service to his Waheguru. He epitomised living a life that was Nirbhau-Nirvair and we are comforted in knowing that he is with His Beloved now."
The actor concluded the letter by saying, "Dad, we were blessed to have you as our fearless leader. We will strive to live by your motto – to observe and absorb. Keep guiding us from the great beyond." Neha Dhupia, Angad's wife and actress, also shared the same post on her Instagram.
ALSO READ: Koffee With Karan 8: Will cousins Rani Mukerji, Kajol make joint appearance after 16 years? Know details
Last Updated Oct 24, 2023, 1:07 PM IST