Amyra Dastur: I had to dress like Angelina Jolie from Lara Croft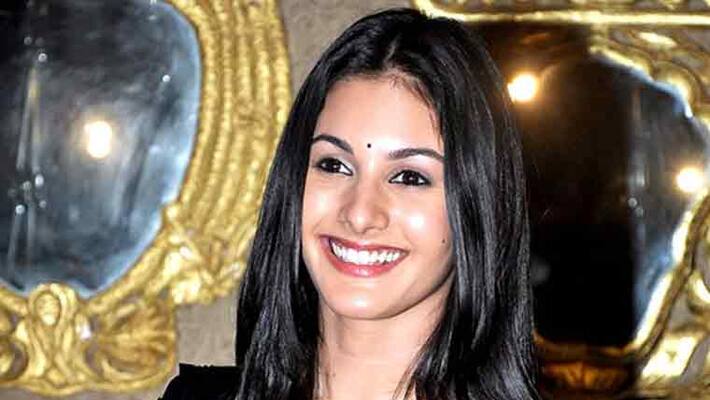 Anegan girl Amyra Dastur has been busy shooting for the multi-lingual Kung Fu Yoga directed by Stanley Tong with Jackie Chan and Sonu Sood. Amyra made her debut film with the Hindi film Issaq (2013), thereafter which she made her Tamil debut with KV Anand's Anegan (2015)  alongside Dhanush. Later, she starred in the sci-fi thriller Mr X (2015) with Emraan Hashmi and she is all set to raise the bar with the Kung Fu Yoga project. She is currently filming portions for Kung Fu Yoga in Jaipur, Rajasthan and takes time for a quick chat. 
How did you land your role in Kung Fu Yoga? 
Casting director Mukesh Chhabra  asked me to audition for a role dressed like Angelina Jolie from Lara Croft, with no mention of what the role would entail or the storyline of the script. I gave it my best shot and never heard about the outcome until November. When Mukesh finally called to tell me I had bagged the role in a Jackie Chan movie,  I was ecstatic. I couldn't wait to get started!
How did you prepare for your role in the film, stunts et all?
I had to be physically fit for my role in the movie and so I started my training in kick-boxing and gymnastics. Jackie Chan's stunt team trained me well, especially in one-to-one combat and on-screen fight sequences . They taught me the choreography for action sequences but it keeps changing while shooting the scene, so I have to be quick with my reflexes and adapt. We still have two more action sequences to shoot and for that I worked hard on increasing my flexibility.
How was your experience sharing the screen space with Jackie Chan. Is he different when off-screen?
Jackie Chan is a real life hero who is not only an amazing actor but also a good human being. He was kind and patient while we were shooting action scenes. He gave me great tips which gave me the confidence to shoot for action sequences. He told me, "You're the person doing the stunt then you are the one in charge." He is kind to everyone on set and treats everyone with respect. Once, he actually started picking up the plastic bottles lying around because he is passionate about environmental causes. 
How was the experience with the Jackie Chan crew?
After we had wrapped up a pretty tiring and dangerous sequence, we got a cake on set to celebrate. Jackie Chan gifted me a customised 'Jackie Chan Stunt Team' jacket which only his stunt team wear. It is the coolest gift I've ever received from anyone. 
How would you describe your chemistry with your co-worker Sonu Sood?
Sonu is a fantastic actor. I was actually scared to work with him at first because I had only seen him play the "bad guy" in movies but when I met him he turned out to be a kind-hearted man with a fantastic sense of humour. He is passionate about fitness and I've actually started maintaining a healthy diet because of his influence. He is great co-worker.
What experiences did China have in store for you during your stay there?
We had been shooting in Beijing. I got to visit The Great Wall of China when I got some time off from my shoot. We were shooting at the frozen lake in Beijing where I saw snow for the first time in my life. I even got to explore the local markets in Beijing which have really unique items. I bought a couple of beautiful silk scarves as souvenirs for my friends and family.
How did you manage to converse with the crew in China? 
The Chinese crew either spoke in Mandarin or Cantonese most of the time. There wasn't a language barrier because when I'm around them, they speak in English to make me feel comfortable. I worked on Anegan for over 120 days so I'm used to working on sets where the crew speaks in a different language. 
Do you consider Kung Fu Yoga as the big break? 
I don't really consider any film as a big break. Even with Kung Fu Yoga, I'm just happy to be a part of a huge scale project and then share screen space with one of the most famous actor in the world. I made my debut in Bollywood when I was 20, and I've managed to complete four films in two years. People recognise my work and that is a big break for me in itself. 
What learning experience do you take away after having worked for Kung Fu Yoga? 
I had a fear of air travelling and that is under control because I have been travelling a lot lately. But now I guess I'm more afraid of breaking my bones. My arms and legs are covered in bruises and cuts but I actually feel proud when I see it because it makes me feel like I've worked hard. (Laughs)
What's in the pipeline in terms of future projects?
Right now my dates are blocked till June as I'm working on Kung Fu Yoga but I would want to make my Telugu debut and do another film in Tamil after completing my shoot. I haven't signed anything yet as my dates might extend but if I'm offered something exciting, I would definitely take it up. 
Last Updated Mar 31, 2018, 6:54 PM IST