All guests attending Samantha wedding have to follow this one rule
Often in such celebs weddings, media often goes overboard with the attention and every movement is telecast on their channels.
A few times TV channels even take telecast rights of such big fat, high profile weddings.
Samantha has told her friends and relatives not to take pictures and videos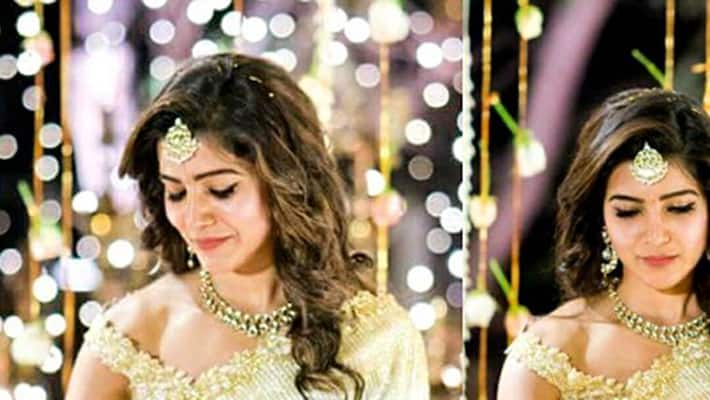 Actress Samantha Ruth Prabhu and Naga Chaitanya Akkineni are all set to marry in a simple ceremony, in Goa on 6th & 7th of this month. 
 
Often in such celebs weddings, media often goes overboard with the attention and every movement is telecast on their channels. A few times TV channels even take telecast rights of such big fat, high profile weddings. 
 
Sometimes we have seen some enthusiastic guests who attend such weddings, take pictures and videos and share them on social media. Knowing this, the bride and groom's families have reportedly decided to keep the pre-wedding and wedding ceremony a very private affair. Therefore, restrictions have been put on not just media folks but also on their 150-plus guests. 
 
According to a report, Samantha has told her friends and relatives not to take pictures and videos, mentioning that she didn't want any leaked or unclear pictures of the precious moments from her life doing rounds on social media. 

 
However, we have seen the same statement coming from the actress side on her engagement too which was held on January 29 in Hyderabad. But the next day all the pictures from the event had gone viral thanks to her family members. A few days later, many videos were linked on YouTube, where we can see both exchanging rings in front of a priest.
 
The authenticity of these reports can't be verified until the actual wedding day. 
 
Sam and Chay will marry on October 6 as per Hindu rituals. They will marry again on the next day as per the Christian tradition in Goa.

 
According to reports, a specially chartered flight has been arranged to fly VVIP guests from Begumpet airport (Hyderabad Old Airport) to Dabolim airport. Reports also suggested that a posh resort in Goa called W located at Vagator beach had been booked for the stay. Only about 150-200 guests will be attending the wedding and all the expenses including airfare, accommodation charges will be paid by the couple. Both are reportedly spending Rs 10 crore on all expenses.  
 
In the meanwhile, Nagarjuna Akkineni confirmed that a grand reception would be held on October 15 in Hyderabad. 
Last Updated Mar 31, 2018, 6:55 PM IST