Ali Zafar's song 'Maza Aya' OUT: Cricket anthem hopes to rekindle sportsman spirit [WATCH]
Ali Zafar collaborates with Hashim Nawaz to release the 2023 ICC World Cup anthem, "Maza Aya." The song combines modern elements with repetitive chants to capture patriotic spirit, aiming to rekindle cricket excitement in Pakistani audiences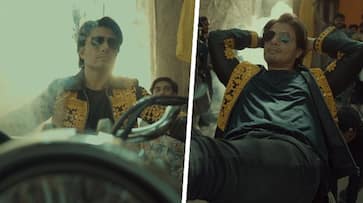 Ali Zafar, the renowned singer, has unveiled his latest anthem for the 2023 ICC World Cup in an attempt to reignite the spirit of the sport. This new track is a collaboration with Hashim Nawaz and aims to infuse even more charm and energy into the upcoming cricket tournament.
The song opens with generic synth leads, introducing a modern touch to the track. It also incorporates stereotypical background vocals, creating a composition that stands tall alongside iconic World Cup anthems like 'De Ghumake' from 2011.
A notable addition to this anthem is a nod to hip-hop, which has gained significant popularity in sports-centric music in Pakistan over the past four years. Hashim Nawaz, the collaborator, brings his rap flows to the mix, enhancing the song's contemporary appeal.
In terms of lyrics, the song heavily relies on the repetitive chants of the chorus, "Maza Aya," which is a trendy composition element but consumes a significant portion of the song's runtime. While catchy, this repetition may limit the anthem's ability to invoke the cricket frenzy typically associated with Pakistani audiences.
The lyrics of the anthem reflect an ambitious goal: to catalyze a surge in patriotic spirit and celebration that characterizes the Pakistani cricket experience. The accompanying music video complements this theme and effectively stirs up a sense of patriotism in the viewer.
ALSO READ: 69th National Film Awards 2023: Devi Sri Prasad honored for best music direction; Allu Arjun captures moment
Ali Zafar, taking to Instagram to share his thoughts on the anthem, expressed his dedication to cricket and his fans by presenting "Maza Aya." This release adds to the growing excitement surrounding the 2023 ICC World Cup, as fans eagerly await the tournament and the anthems that accompany it.
Last Updated Oct 18, 2023, 8:08 AM IST