Akshay Kumar reunites with Shah Rukh Khan, Ajay Devgn for new ad, watch video
Akshay Kumar has returned as Vimal's brand ambassador and rejoined Shah Rukh Khan and Ajay Devgn in a new ad campaign.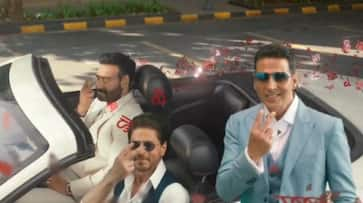 Over a year after facing backlash for his association with the brand Vimal, Akshay Kumar has returned as its brand ambassador and rejoined Shah Rukh Khan and Ajay Devgn. According to a new campaign, SRK, Ajay, and Akshay were seen endorsing the brand in a video posted online on Sunday. In the video, Shah Rukh and Ajay are seen sitting in a car, honking for Akshay's attention.
Akshay was seen wearing headphones and listening to music, unaware that SRK and Ajay were waiting for him. He ignored Shah Rukh and Ajay's frequent phone calls. Ajay eventually opened a packet of pan masala, which piqued Akshay's interest. The advertisement has us going viral on social media. 
The new ad
Akshay's controversy with Vimal
Akshay resigned as Vimal's brand ambassador in 2022 and after his first ad was out, he suffered flak. The actor apologized to fans for also being associated with the brand and took to social media and wrote, "I apologize. I'd like to apologize to all of my admirers and well-wishers. Your reply over the last few days has had a profound impact on me. While I have not and will not support cigarettes, I understand your emotions in light of my affiliation with Vimal Elaichi."
On the work front, Akshay's 'Mission Raniganj: The Great Bharat Rescue' is currently running in theaters and was released on October 06. He will next be seen in 'Housefull' and 'Welcome 3'.
Last Updated Oct 9, 2023, 12:21 PM IST