Aashram star Tridha Choudhury reveals her wedding plans; Here's what we know
Tridha Choudhury, known for her role in "Aashram," revealed her plans to return to Kolkata, shared Diwali traditions, and announced her private relationship and upcoming gurdwara wedding in a recent interview with Calcutta Times. She expressed her love for Kolkata's simplicity, discussed her Diwali preparations, and mentioned her upcoming role as a journalist in a Bengali web series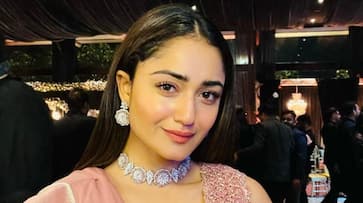 In a recent interview with Calcutta Times, Tridha Choudhury, well-known for her role in "Aashram," shared some exciting news about her personal life and her upcoming Diwali celebrations. Despite making Mumbai her current home, her heart still belongs to Kolkata, and she discussed her plans to return to the city, her Diwali traditions, and a significant announcement that has left her fans thrilled.
Tridha Choudhury expressed her enthusiasm for the festival of Dhanteras, which she celebrates religiously. She believes that buying gold, silver, and diamonds on this auspicious day brings luck and signifies wealth and prosperity. Additionally, she mentioned that she performs Lakshmi Puja at home on this day and plans to invest in a solitaire this year.
Furthermore, Tridha revealed her plans to be in Kolkata for Bhai Phonta, a special occasion when she will celebrate with her cousins. She excitedly mentioned her love for the mutton kosha cooked by her grandmother and her anticipation of the celebration.
While discussing her Diwali plans, Tridha mentioned that she has already begun decorating her house for the festival and has started distributing gifts. She expressed her fondness for Diwali and how it's one of her favorite festivals.
Tridha Choudhury will be in Delhi to celebrate Diwali and plans to wear a heavily embroidered sharara, which was a thoughtful gift from a special someone.
The interview also took an unexpected turn as Tridha disclosed details about her relationship. She revealed that she is in a relationship with someone from the industry, and they both prefer to keep their relationship private. Tridha shared that they are in a happy space and have plans to get married in a gurdwara next year.
ALSO READ: Mahesh Babu, Venkatesh Daggubati's candid card game stirs social media frenzy; Read more
Tridha Choudhury, despite her love for traveling and exploring the world, emphasized that there's no place quite like Kolkata. She spoke of the city's warmth and its unparalleled cuisine, highlighting the strong connections people develop in Kolkata.
Regarding her professional life, Tridha mentioned that she has received numerous project offers in Bengali cinema. Still, due to prior commitments, she hasn't been able to accept any of them. However, she excitedly shared that she would soon be portraying the character of a journalist in an upcoming Bengali web series and will begin dubbing for it in the near future.
ALSO READ: Koffee With Karan EP 3 promo OUT: Karan Johar lets the 'Liger' out in a room with Sara Ali Khan, Ananya Panday
Last Updated Nov 6, 2023, 4:58 PM IST