'Aadikeshava' trailer out: Panja Vaisshnav Tej-starrer Telugu film is a mix of love and revenge
'Aadikeshava' stars Panja Vaisshnav Tej and Sreeleela and is set to release in theaters on November 24, 2023.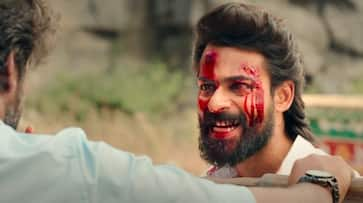 'Aadikeshava', the upcoming Telugu film starring Panja Vaisshnav Tej and Sreeleela has been making waves for quite some time. After being delayed twice, the film which is directed by Srikanth N Reddy is finally due to visit theaters on November 24, 2023. Today, the makers of the film released its trailer on social media and ever since then, it has taken the internet by storm.
The trailer
Panja Vaisshnav Tej's character 
As per the trailer, Panja Vaisshnav Tej plays a cheerful persona named Balu, who attempts to impress Chitra, the character played by Sreeleela. But their lives are turned upside down when Balu meets Joju George's character, who portrays the film's antagonist.
Raadhika Sarathkumar's character
Raadhika Sarathkumar, who plays Vaisshnav Tej's mother, is also seen in the trailer. Jojo George is seen playing a violent criminal who isn't afraid to murder others. Furthermore, it is clear from the teaser that the film will contain various funny situations. 
Joju George's debut Telugu film
Joju George, who has appeared in films such as Joseph and Porinju Mariam Jose, makes his Telugu debut in 'Aadikeshava'. The film also boasts a supporting cast that includes Raadhika Sarathkumar, Aparna Das, Keshav, and Deepak.
Last Updated Nov 21, 2023, 6:58 PM IST