54th International Film Festival of India: Today Union Minister Anurag Singh Thakur to inaugurate festival
54th International Film Festival Of India: The 54th IFFI will have 18 international premieres, 62 Asia premieres, 13 world premieres and 89 India Premieres. Union Minister for Information and Broadcasting, Anurag Singh Thakur will inaugurate the festival.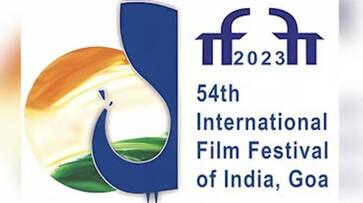 The 54th International Film Festival of India (IFFI) will open on Monday, November 20, amid great excitement. The Shyama Prasad Mukherjee Stadium in Goa will host the yearly international film festival. Anurag Singh Thakur, the Union Minister for Information and Broadcasting, is expected to give the festival's opening speech. The British film "Catching Dust" will be screened to kick off the annual film festival. Up to 19 award-winning films from different international film festivals have been chosen for the IFFI Kaleidoscope at this year's film festival.
According to a Hindustan Times source, the festival will feature 198 films in its foreign section, including 13 world premieres, 18 international premieres, 62 Asia premieres, and 89 India premieres.
Indian Film Section:
About 25 feature films and 20 non-feature films from India will be shown during the "Indian Panorama" segment. The opening films in the feature selection and non-feature selection will be the Malayalam film "Aattam" and the Manipuri language film "Andro Dreams," respectively.
Jury Head/Panel Members at 54th IFFI:
Shekhar Kapur, a well-known director, will chair the 54th IFFI jury. Additionally, the five jurors are appointed. José Luis Alcaine, a Spanish cinematographer, and Jerome Paillard, Catherine Dussart, and Helen Leake are the producers. The five-member jury for the best web series (OTT) award, a new category in the IFFI awards ceremony, will be led by filmmaker Rajkumar Hirani.
Satyajit Ray Lifetime Achievement Award:
Hollywood actor and producer Michael Douglas will receive the Satyajit Ray Lifetime Achievement Award at the 54th IFFI. Among other accolades, he has received a Primetime Emmy, five Golden Globes, two Oscars, and other awards.
54th IFFI Opening Ceremony:
Bollywood celebrities will put up intense performances during a star-studded inaugural ceremony. Celebrities like Madhuri Dixit, Nushratt Bharucha, Shahid Kapoor, and many more will perform at the inaugural ceremony. Sara Ali Khan, AR Rahman, Vidya Balan, Karan Johar, and Hollywood actor Catherine Zeta Jones will also be attending the nine-day film festival.
54th IFFI Closing Event:
Amit Trivedi, a music composer, and Ayushmann Khurrana will perform at the closing ceremony. The last day of the event is November 28.
 
Last Updated Nov 20, 2023, 12:05 PM IST