'No, stop': Nick Jonas publically slams a fan who threw harmful object onstage at concert
The incident occurred at the Jonas Brothers concert in Sacramento, California, as part of the Five Albums. One Night. The World Tour. Nick Jonas got irked and furious, then publically called out fans and told them to stop it.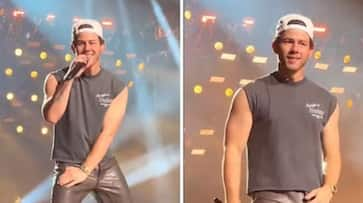 Over the years, fans have displayed their unconditional love and constant support for their favourite artists. Unfortunately, there have been instances where overzealous fans have thrown items onto the stage during performances, often failing to realise how dangerous and impolite this behaviour can be. During a recent Jonas Brothers concert performance in Sacramento, California, Nick Jonas had a similar experience while he energetically sang Rollercoaster on stage. As Nick passionately sang, an overly enthusiastic fan threw a bracelet in his direction, catching him off guard.
ALSO READ: Aquaman and the Lost Kingdom trailer OUT: Jason Momoa, Amber Heard starrer to hit theatres on THIS date
Despite the disruption, Nick maintained his professionalism and continued singing. However, the situation escalated when another fan threw a bracelet towards him. Attempting to persevere with the performance, the singer had to stop. He firmly addressed the unpleasant experience. While looking towards the fan responsible, he sternly said, "No, Stop."
The incident at The Tour caught the attention of fans and netizens on social media as a video capturing the moment went viral. In the VIRAL video, the Camp Rock star initially catches some items thrown his way. However, after a few initial attempts, he looked visibly irked and shook his head in disbelief, urging them to stop it.
The dangerous trend of throwing items onstage at performers has increased in recent years. In June, pop sensation Bebe Rexha fell victim to this trend when she was struck in the face after a fan threw a mobile phone during a concert in New York. The impact left her with a visible bruise above her left eye. She was rushed to the hospital.
ALSO READ: Is Govinda in legal trouble? Actor to be questioned by EOW in connection to Rs 1000 crore pan-India ponzi scam
Last Updated Sep 15, 2023, 12:36 PM IST