'Meri dp itni dhaasu, Chitra meri saasu': Style icon Urfi Javed takes sly dig at BJP leader
Urfi Javed aka Uorfi, is loved and hailed for her unconventional and bold fashion. The globally loved Indian style icon and diva is back at it again as she took a sly dig at BJP politician Chitra Wagh in her tweets a couple of hours back.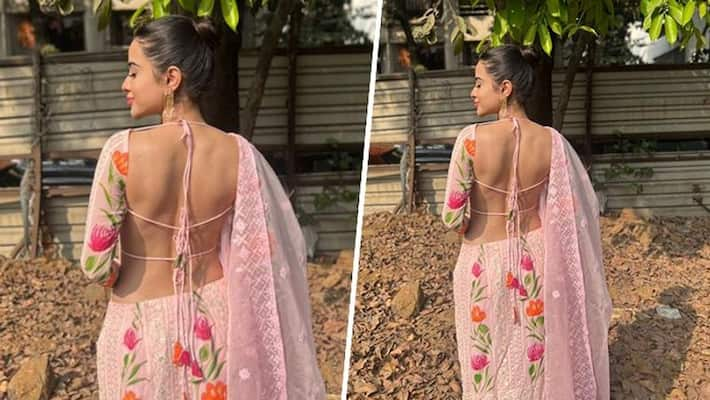 The self-made star and style icon Urfi Javed, had recently surprised netizens with her tasteful sartorial choices at a fashion week. This gesture also got many trolls thinking that Urfi is only exercising her right of freedom to wear what she wants to wear, which is commendable. 
Urfi Javed is one of the most prominent and loved TV personality who elevates the fashion game in the industry. She has worked hard to reach where she is today. She is an icon who needs no further introduction. Urfi's sartorial choices in fashion are often a mix of eccentric and quirky, but the actress stands by it. She slams the trolls and even recently bashed a public figure on social media and the BJP politician Chitra Wagh for commenting that she deserves to be in jail due to her fashion choices. Her spontaneity is what makes her the bold and quintessential fashion diva. She is very outspoken when there is injustice against women. 
ALSO READ: Why Urfi Javed avoids clothes? The actress breaks her silence on the same - SEE PICS
For those unaware, Uorfi was a part of a controversy wherein the BJP leader Chitra Wagh targeted her and wanted the diva to get jailed for alleged nudity on Mumbai streets. But now, Urfi has come back with a bang. She is giving it back to the leader via her Twitter tweets with sass and spice. While she has garnered a strong fanbase for her creative yet fresh choices that redefine fashion. She also gets trolled and rape threats because of the same. But the diva is fearless and unapologetic when it comes to fashion trends. While a massive section of people loves her, some of them dislike her choices. But no matter what, people cannot ignore Urfi.
Taking to her Twitter handle, Urfi Javed wrote three tweets. In the first one, she posted a picture of herself in a traditional Indian kurti. It was a baby pink-colored floral-themed kurti ensemble outfit that was backless. Mocking the politician and still giving a dose of sass and indirect insult, Urfi's tweet caption read, "Lekin abhi bhi bahot Sudhar baaki hai ! Sorry @ChitraKWagh ji ! I love you."
In the second tweet, Urfi, who now has the Indian Women's rights commission also supporting her, turned Twitter into a roast chat as she mocked and took potshots at the politician. Her caption read, "Uorfi ki underwear me chhed hai , Chitra tai great hai."
In the third tweet, Urfi also trolled the BJP politician with a funny and hilarious tweet caption aimed at her to make her realize the mistake. Urfi's caption read, "Meri dp itni dhaasu, Chitra Meri saasu." Fans hailed Urfi's sense of humor and congratulated her in comments as Urfi Waghmare.
ALSO READ: Urfi Javed slams Islamic scholars for not condemning Taliban's ban on women education - READ
Last Updated Jan 10, 2023, 9:38 AM IST