Here's why Tejasvi Surya was preferred over Tejaswini Ananth Kumar for Bengaluru South
Based on sources from within the Karnataka BJP, there are as many as four reasons as to why Tejaswini Ananth Kumar was denied a ticket. That includes countering allegations of dynasty politics and contesting elections based on compassionate grounds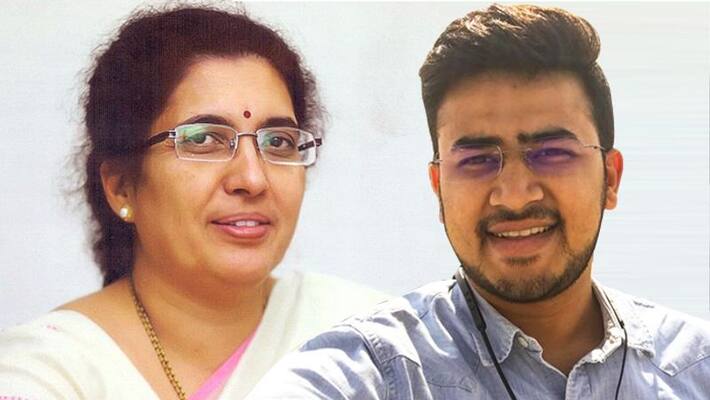 Bengaluru: As Prime Minister Narendra Modi and BJP national president Amit Shah chose to field young blood Tejasvi Surya instead of Tejaswini Ananth Kumar, here are 4 reasons why she missed the bus, based on information from sources within the Karnataka BJP.
Reason 1: The primary reason why Tejaswini was denied a ticket was that the party feared losing the election in the same way it lost in Jayanagar MLA by-election. The most popular BJP MLA BN Vijayakumar passed away owing to a heart attack and it was his brother BN Prahlad who was given a ticket in 2018. Though the BJP thought that he would win, riding on a wave of compassion, their plans boomeranged as the Congress candidate Soumya Reddy won. Keeping this in mind, the BJP has played it safe.
Reason 2: Sources say that Modi wanted Rajajinagar MLA Suresh Kumar to contest so that he could induct him in the perspective Cabinet, in the event BJP won the elections. But Suresh did not honour the request chiefly because he wanted to concentrate on state politics, and two, sources add he wasn't happy that his name was being considered in the last minute, as an alternative.
Reason 3: As strange as it may sound, the state BJP leaders themselves canvassed against Tejaswini's candidacy. If sources are anything to go by, the state leaders were apprehensive about her growth on the national firmament as they felt she would go on accumulating more clout, thereby pushing them to the backburner. So, the state BJP leaders vehemently advocated the candidacy of Tejasvi.
Reason 4: Dynasty politics is something that the BJP abhors. It has kept pointing fingers at the Gandhi family for giving tickets to their own family members. If the BJP did the same by issuing tickets to a wife of a deceased leader, it would walk in the same direction as the Gandhi family did. Ultimately, it ended up offering everything on a platter to the opposition.  However, one could also argue that Tejasvi is the nephew of sitting Basavanagudi MLA Ravi Subramanya. But this, as per sources, doesn't have much weightage.
 
Last Updated Mar 26, 2019, 4:36 PM IST