Roshan Baig slams Siddaramaiah, Dinesh Gundu Rao, Venugopal; Congress leaders retaliate
Veteran Congress leader Roshan Baig's was revealed when he called top leader Venugopal a buffoon and KPCC president Dinesh Gundu Rao a flop.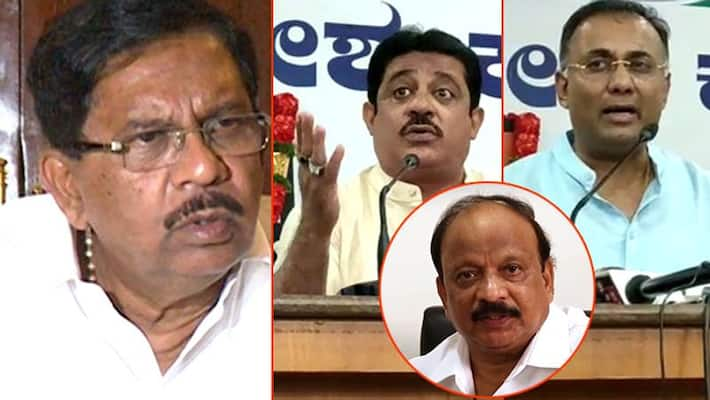 Bengaluru: Five-time MLA from Congress, Roshan Baig slammed his own party leaders and demanded that CLP leader Siddaramaiah, AICC general secretary KC Venugopal and KPCC president Dinesh Gundu Rao resign immediately.
Roshan Baig is an MLA from Shivajinagar constituency. He had asked for a ticket to contest the MP election but was not awarded one. Thus, soon after exit polls indicated a possible defeat of Congress and its ally JD(S) in Karnataka, Baig openly slammed party leaders.
Speaking to media, he called AICC general secretary, who is also the Karnataka In-charge of the party, KC Venugopal, a buffoon.
He slammed Siddaramaiah and called him "a person who thinks of himself as the greatest CLP leader." He also criticised Siddaramaiah's idea of trying to "create a divide between Lingayats and Veerashaivas."
Speaking about KPCC president Dinesh Gundu Rao he said, Rao is a flop. Congress needs 90% of the minority to vote, but don't want them during publicity campaigns. "Minorities are just used as vote bank," he said.
"The situations in Karnataka is such that there is only one ticket for Muslims now, compared to tickets for three seats earlier. Not a single Christian, and only one Muslim has been given a ticket and we have been ignored," he said.
Expressing his disappointment over not getting ticket to contest the Lok Sabha elections, Baig said, "Of course, I am a human being. Why shouldn't I be disappointed? Am I a bonded labourer?"
Reacting to the same, Congress leaders Dinesh Gundu Rao, Zameer Ahmed and G Parameshwara slammed Roshan Baig. They questioned the timing of his opening up to media and asked, "Where was Baig till the exit polls were announced?"
Zameer Ahmed said that Baig had been chanting Siddaramaiah's name from 2013 to 2018, when he was the minister in Siddaramaiah's cabinet. "How can the same person be termed as villain now?" he questioned.
Dinesh Gundu Rao said that he did not expect a veteran leader like Baig to stoop to this level. "No political leader who is civilised or has culture will say such things about the party," he said.
G Parameshwara said that it was Baig's personal remarks, but the party will take serious note of it.
Is Baig set to jump parties ahead of talks with BJP claiming that the Karnataka coalition government will crumble after May 23?
Last Updated May 21, 2019, 7:33 PM IST