Prime Minister Modi reveals why Rahul Gandhi did not contest from Karnataka
Prime Minister Modi began and ended his speech in Kannada and spoke about the Karnataka coalition government's failure. Ambareesh and Sumalatha received special mention.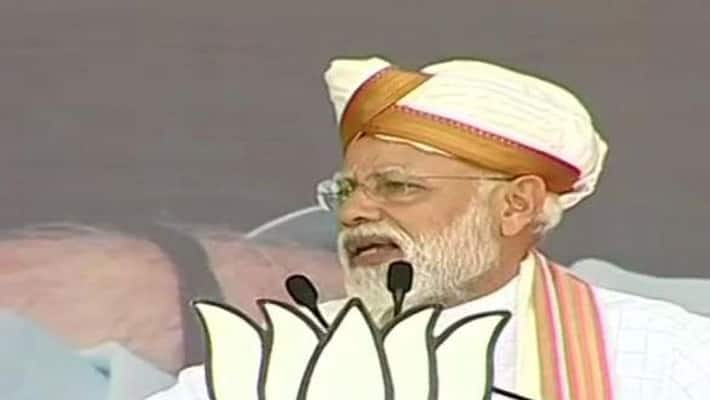 Mysuru: Prime Minister Modi addressed a massive gathering at Maharaja College in Mysuru after he was welcomed with 'Modi again' slogans by supporters.
PM Modi was in Mysuru to campaign for Mysuru-Kodagu candidate Pratap Simha.
He heaped praises on the people of Karnataka and received thunderous applause for his mentions of Goddess Chamundeshwari, Sir M Visveswaraya and the Mysuru royal family.
Modi also spoke about Ambareesh and Sumalatha's contribution to Kannada and the culture of the state. Sumalatha is fighting the election battle against JD(S) candidate Nikhil Kumaraswamy in Mandya as an independent candidate.
He said, "Mysuru's message is clear: Phir Ek Baar Modi Sarkar (Once again Modi government). Your love has made it possible for the Chowkidar to keep Bharat Mata secure and serve her."
He also slammed the Congress by criticising Rahul Gandhi for not daring to contest from Karnataka.
"Their logic cannot be understood. If you had to contest from south, why didn't you contest from Karnataka, from Mysuru? There was no safe seat in Karnataka. They have their doubts about the JD(S).  Sonia Gandhi had backstabbed Deve Gowda and removed him from power. They are scared that Deve Gowda's party will backstab them and defeat Rahul Gandhi. This is why he is contesting from Wayanad," said Modi.
Speaking about BJP's plans for the next five years, he said, "Our aim is that by 2030 India should be in the world's top three economically. In the next five years, the number of functional airports will be doubled. The development that has taken place in 70 years will happen in five years. Entrepreneurship loans up to Rs 50 lakh will be provided without any security."
He also lashed out at Congress' manifesto and said all they want is to remove Modi and do not care about development.
"Your love for Modi has made them sleepless. They are chanting Garibi Hatao for decades together. Now even the poor are saying if you remove Congress, poverty will vanish by itself," Modi said.
"Congress gifted the country with 2G scam, but our government gave the country cheaper smart phones and the most affordable data in the world," he added.
"Every vote of yours will strengthen Modi, your Chowkidar," he appealed.  
Last Updated Apr 9, 2019, 7:40 PM IST