Nikhil Kumaraswamy, Prajwal Revanna are richer than grandfather Deve Gowda
Here are the property details of the JD(S) Gowda family. With three contestants from the family this Lok Sabha election, here are details of Nikhil, Prajwal and Deve Gowda's declared assets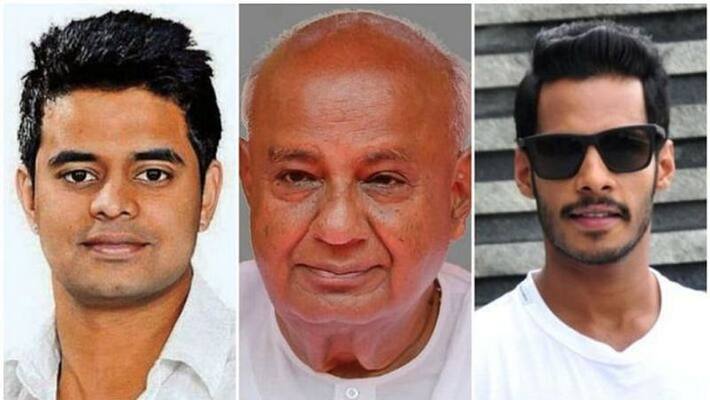 Bengaluru: Nikhil Kumaraswamy and Prajwal Revanna, grandsons of former prime minister HD Deve Gowda are set to make their Lok Sabha election debut from Mandya, Hassan. But it is interesting that the grandsons of JD(S) chief, Deve Gowda have amassed quite lot of wealth compared to the veteran politician.
Nikhil Kumaraswamy
Richest among the three is Nikhil Kumaraswamy who is the son of HD Kumaraswamy, chief minister of Karnataka. Nikhil is also a film actor with two movies, Jaguar and Seetharama Kalyana, to his credit. He is contesting from Mandya against Sumalatha, actress and wife of late Congress leader Ambareesh.
Nikhil owns property worth Rs 17 core (17,53,87, 761.77 to be precise). He has a liability of Rs 2,40,04,283. He also owns a Lamborghini worth Rs 3.11 crore. He has Rs 4.55 lakh worth gold, and two more luxury cars worth Rs 23 lakh.
Prajwal Revanna
The second in the list is Prajwal Revanna who is valued at Rs 10.11 crore. Interestingly, his declaration reflects 18 cows and two bullocks as his property. He does not own a car but owns a tractor. He is also a partner in Chennambika Convention Hall and has declared movable assets worth Rs 1.64 crore, cash of Rs 15.58 lakh, investments of Rs 91.1 lakh and loans of Rs 60.2 lakh paid to family members. His liabilities are worth Rs 3.72 crore including the one paid to his father, PWD minister HD Revanna- Rs 1.26 crore and mother Bhavani- Rs 43.75 lakh.
Prajwal does not own a house.
HD Deve Gowda
Deve Gowda has declared assets worth Rs 6 crore. Compared to last term, Deve Gowda's properties have seen an increase of Rs 5.23 crore. Deve Gowda has movable assets of Rs 1.91 crore, Rs 4.09 crore worth immovable property and gold worth Rs 4.98 lakh. He owns three Ambassador cars and two tractors which are in the name of his wife Chennamma. Deve Gowda has agriculture and dry land worth Rs 3.28 crore.
He has a loan of Rs 97.98 lakh. His wife Chennamma's annual income has been declared as Rs 6,38,410.
Last Updated Mar 26, 2019, 7:55 PM IST